Letang's Continued Improvement Makes for All-Star Season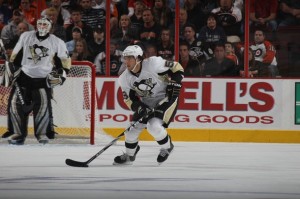 Tuesday, 01.04.2011 / 5:02 PM / Features
By Michelle Crechiolo
Kris Letang still can't believe it.
The fans made the Penguins defenseman both the top-voted blueliner and the top write-in candidate for the 2011 NHL All-Star Game with a total of 477,960 votes, as announced Tuesday by the league.
"I owe our fans a lot," he said. "It's amazing. It's crazy to see how many fans voted. And the fact that they took the time to write me in, I owe a big thank you to them."
This will be Letang's first appearance in the All-Star game. He is one of four Penguins that will travel to Raleigh, N.C., on Jan. 30 to participate in the event.
The 23-year-old Letang has thrived this year, consistently ranking among the top NHL defenseman in scoring all season. He's currently ranked fourth in points (33) and third in plus-minus (plus-20 rating) among all league blueliners.
He attributes his success to a combination of experience and opportunity, as Letang is now in his fourth full NHL season.
"Experience is the biggest thing, I think," he said. "Then the fact that there were some opportunities that were opening up at the end of the season with the departure of Sergei (Gonchar) and a few guys leaving."
After entering the league in 2007, Letang had the opportunity to learn from one of the best defensemen in the game in Gonchar.
I owe our fans a lot. It's amazing. It's crazy to see how many fans voted. And the fact that they took the time to write me in, I owe a big thank you to them. – Kris Letang "I think he'll be the first one to tell you that he tried to learn as much as he can the past few years from Gonchar," captain Sidney Crosby said. "You couldn't have a better teacher when you look at offensive defensemen. Letang made the most of the opportunity and has played some great hockey for us."
No one will argue that playing with Gonchar helped make Letang a better player. But with the offseason departure of Gonchar to Ottawa, Letang's opportunity to prove himself as a legitimate No. 1 defenseman that could anchor an entire defensive corps had finally arrived.
And Letang didn't fold under the pressure. In fact, he lives for it.
"That's what we're born for," he said. "I don't think guys want to play hockey just to play. They want to have pressure. They want to push things. I think that was my goal this year, to put more pressure (on myself) and play a bigger role on the team."
"He's gotten better each year," Crosby added. "With the absence of Gonchar, he's really stepped into that role and made the most of it."
Letang's commitment to improvement has impressed the coaching staff. But head coach Dan Bylsma said a player like Letang almost works too hard by focusing too much on video instead of just going out and playing his game.
"A credit to Kris, he's continued to work, sometimes too much, on his game," Bylsma said. "But he keeps looking for ways to get better.
"He's worked hard and done a lot of diligent work on the ice and off the ice. And there's been a vacancy to step into a bigger role, more time with the puck on the power play, a more important role on the power play. He finds himself out there with Crosby's line 85 percent of the time. That's a big role to fill. He's defending well in that role and also played offense well in that role."
After playing in two-consecutive NHL YoungStars games in 2007 and 2008, Letang is excited to play in the big event.
"I think to play with all those guys, it's going to be a great experience," he said.