Kris Letang Pivotal To Penguins' Success During Sidney Crosby's Absence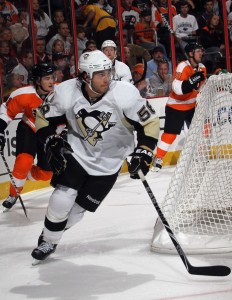 Jan 12, 2011 – I already had a story idea in my head by the end of the second period of the Penguins' contest against the Boston Bruins on Monday night.
With the Pens missing Sidney Crosby and desperately looking for some offensive leadership, Kris Letang produced a memorable shift on a late-period power play opportunity. At the time, the Penguins seemed to be running out of ideas on offense, the enigmatic Evgeni Malkin looking uninspired and power forward Chris Kunitz relatively inept.
Letang, though, seemed to put the team upon his shoulders for a short while, marauding up the ice, on either flank or through the middle, getting the puck deep, or even trying to set up the power play.
By sheer force of will, Letang seemed to be dragging the power play along on his own, and if the rest of the team felt like joining in, well, that would have been fine by him.
As the Bruins' penalty inched closer and closer to expiration, Malkin, in one of his occasional spurts of genius, sent an inch-perfect cross-ice saucer pass to Letang, who made no mistake in putting his entire 201-pound frame behind the shot. 2-0 Penguins. The crowd erupted as the Penguins' offensive woes vanished, at least for a while, and the young Norris Trophy candidate flexed his offensive muscle. The hometown team moved closer to a victory, showing that they could, indeed, win without Crosby.
But, then, a funny thing happened in the third period: the Penguins collapsed, defense, discipline and all.
Hockey, like life, is funny in that way. You can imagine the storyline, some epic tale of a hero overcoming adversity or a long-forgotten face finding redemption. But things don't always work out that way.
While Letang has earned almost every word of praise that has come his way this season, to the victor goes the spoils, to the loser goes questions. And the story from Monday night, now, instead of Letang's brilliant two minutes on the power play, quickly transformed into the Penguins' collapse.
Fantastic post at SBNation Pittsburgh – you can read the rest of it here!