Skills competition fun for Fleury, Letang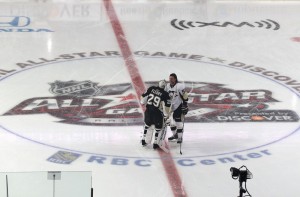 RALEIGH, N.C. — Penguins defenseman Kris Letang already was a little anxious about the spotlight of the NHL All-Star weekend. So what happened at the SuperSkills competition Saturday night at RBC Center?
Letang was picked to be Team Staal's participant in the first leg of the first event. He and Team Lidstrom's Duncan Keith had to skate a lap — backward — as part of the fastest-skater competition, and he barely edged Keith, 16.132 seconds to 16.157 seconds.
"It was kind of scary," Letang said. "I didn't know what to expect, the speed I was going to have in the curves. It was fun, but it was a little nerve-racking when you're in the first skill."
In the second event, the breakaway challenge that encourages creativity — even hot-dogging — on a series of penalty shots, Penguins goaltender Marc-Andre Fleury flashed some personality.
He stopped Montreal's P.K. Subban after doing a 360-degree spin, stacked the pads to stop Anaheim's Corey Perry and did a couple of jumping jacks before making a save on Washington's Alex Ovechkin, the winner of the event.
That's exactly the kind of taunting fun Fleury likes to have in the Penguins' team shootout contests.
"I get to practice it pretty often since we have so many shootouts with the Penguins," Fleury said.
"I just thought I'd throw a couple [moves] out there, try and get in their heads."
Letang struggled during the skills challenge relay, taking too many one-time shots to count from the left point before he got the required four goals. But he was not solely to blame for Team Staal losing the event to Team Lidstrom.
In the hardest-shot contest, Ovechkin broke his stick, so he borrowed Letang's, who is a right-handed shot with a blade curve somewhat like Ovechkin's.
Ovechkin's first two attempts with that stick did not register on the radar for some reason — "That's because the shot was coming too hard from the stick," Letang cracked — and his final one was 97.2 mph, not nearly enough to match the record of 105.9 that Boston's Zdeno Chara shot to win.
For the final event, a team-wide conventional shootout contest, Fleury stopped six of seven shots he faced in the first round, with only Subban scoring. Letang shot once against Fleury, who made a pad save after Letang delayed getting off a backhand shot.
"I think I can go back to Pittsburgh with my head up and give [some grief] to him a little bit," Fleury said of stopping Letang, who had a different take.
"I was already laughing," Letang said. "I couldn't focus on it. We were both looking at each other. We were smiling. And he knew my move, so there was no way I was going to score."
In the second round, Fleury stopped two of three shots, with Perry scoring.
Team Staal won the SuperSkills, 33 points to Team Lidstrom's 22.