Penguins win Game 1 – Shutout for Fleury!
Game 1 is in the books! It was an exciting game last night and fantastic win for the Penguins. Really proud of Fleury and the rest of the team for bringing the heat and grinding the Lightning down!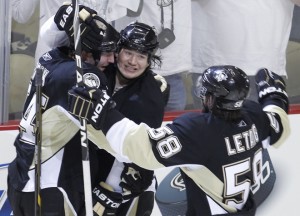 Here is the game wrap and photos:
(AP) – Alex Kovalev and Arron Asham scored third-period goals 18 seconds apart and Marc-Andre Fleury stopped 32 shots to lead the Pittsburgh Penguins to a 3-0 victory over the Tampa Bay Lightning in the first-round playoff opener on Wednesday night.
Chris Kunitz sealed the win with an empty-net goal in the final minute in the Penguins' first postseason game in their new arena. Brooks Orpik, who had two assists, opened the game with a heavy and clean check on Lightning star Steven Stamkos.
Fleury made spectacular saves – including a blind stop on former Penguins forward Ryan Malone in the first period – and shut down the Lightning's high-powered offense. Fleury earned his fifth playoff shutout, one short of tying Tom Barrasso's franchise record.
– The Tampa Bay Lightning have three formidable forwards in Steven Stamkos, Vinny Lecavalier and Marty St. Louis. To counter their offensive dynamics, the Penguins matched center Jordan and defensemen Paul Martin and Zbynek Michalek against Lecavalier and St. Louis, and blueliners Brooks Orpik and Kris Letang vs. Stamkos' line. The total team effort helped Pittsburgh limit the three Bolts stars to 0 goals, 0 points and seven shots.
Complete game wrap!
Photos:
I added 5 photos from Game 1, to view that album, click the image below.