Pens defeat Flames 5-3 !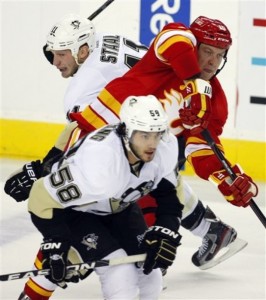 Second-Period Onslaught  
Post-Game: Coach Dan Bylsma
Post-Game: Matt Niskanen
Post-Game: Jordan Staal
Post-Game: Tyler Kennedy
Game Photos
 Pens-Flames In-Game Blog
 Penguins Report: Game Day at Calgary
MIDDLE FRAME MAGIC
The Flames came out – well, on fire (pun intended) – right from the start, putting the Penguins on their heels early and taking a 1-0 lead after 20 minutes. But Pittsburgh regrouped during the first intermission to take total control of the game in the middle frame.
"They outbattled and outworked us a lot in that first period and that was really the adjustment we made, is we had to get better and battle harder and expect them to play that way," head coach Dan Bylsma said. "Our guys responded real well and came out and played much better."
The Penguins scored four answered goals from Tyler Kennedy, Matt Niskanen, Craig Adams and Evgeni Malkin in the middle frame to take a 4-1 lead and a 25-9 advantage in shots into the third period. Their second-period outburst would prove to be vital, as the Flames rallied to come within one goal in the third – before Jordan Staalscored an empty netter to give the Penguins a 5-3 win.
"We got our legs going, I think, and started attacking them more," Niskanen said. "Really put the heat on them in the second and got rewarded with some goals. … They made it interesting toward the end, but we did enough good things to win."