Pens fall to the Jets, 2 – 1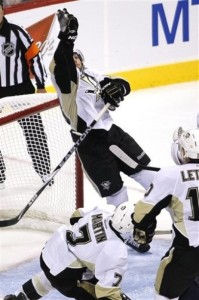 "It was about being ready to start this game," Penguins coach Dan Bylsma said. "(The Jets) brought exactly what we thought they would bring. It was an emotional building and they had a fast quick start for them.
"We knew they wanted to come out and play that way, and they certainly did and got the better of us."
Winnipeg went up 2-0 with just over a minute left in the first period when Burmistrov stole the puck from defenseman Kris Letang along the boards. Burmistrov sent the puck over to Glass in the high slot and he fired a shot through the legs of a screened Fleury.
Pittsburgh got within 2-1 with 1:38 left in the second period when Michalek scored from just inside the blue line.
Letang assisted on the goal, giving him seven points this season, including one goal. Letang had been tied with Ottawa's Erik Karlsson for most points by a defenseman.
Pittsburgh, which is playing 13 games in the first 24 days this season, was without Malkin (knee) and Tyler Kennedy (concussion-like symptoms). Crosby (concussion) stayed home as he continues his recovery from his injury sustained in January.  – Read more – Complete Recap
BoxScore
Video
End Game
In – Game Blog 
Photo Gallery
Video:
Jump Puck
Kris Letang saves a goal as he jumps in the air and swats the puck out of harm's way.
Photos: