Pens beat the Kings in shootout!
Good morning! I went to bed after the 2nd period, but I woke up to a win and in a shootout too! I was excited to read the recaps and news about the game especially with a result as sweet as that. So here is the recap, game photos, and media from last night's game!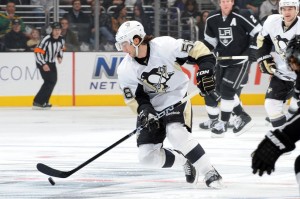 LOS ANGELES (AP) – Just looking at the Pittsburgh Penguins' fast start, you might never know they have been without captain Sidney Crosby all season.
Chris Kunitz scored the tying goal with 2:57 left in regulation and netted the deciding tally in the fourth round of a shootout to lead the Penguins to a 3-2 victory over the Los Angeles Kings on Saturday night.
Crosby, sidelined since Jan. 5 because of a concussion, is seemingly getting closer to returning, but has no date yet.
"We'll know when he lets us all know. But right now, I have no idea," Kunitz said. "You can't replace a guy like Sid. He obviously makes our team better when he's in the lineup. Right now everybody is pulling their own weight."
The Penguins are 32-16-8 during Crosby's absence, not counting their first-round playoff loss to Tampa Bay last season.
"Our ability to be able to play with speed and be a hardworking, tenacious team has allowed us to play very hard defense and make us hard to handle," Penguins coach Dan Bylsma said.
Steve Sullivan scored his first of the season, and Marc-Andre Fleury made 24 saves for the Penguins (9-3-3), who lead the NHL with 21 points.
Anze Kopitar had a goal and an assist, Simon Gagne also scored, and Justin Williams had two assists for the Kings, who have lost four straight. Jonathan Quick had 31 saves.
"The outcome wasn't the way we wanted it to be, but I think our game overall was much better than it was the last game," Kopitar said.
Mike Richards was taken down from behind by defenseman Kris Letang and was awarded a penalty shot with 9 1/2 minutes left in regulation. Richards missed wide, making him 0 for 6 on penalty shots. Continue reading AP recap 
• Video Highlights
• News
• Photo Gallery 
• Endgame 
• Boxscore 
• Game Blog