Let the excitement begin!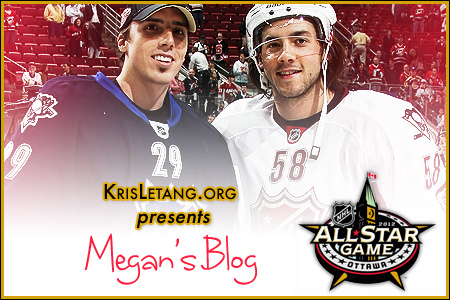 As a hockey fan living in Canada's capital city of Ottawa, there was absolutely no way I was going to miss this once in a lifetime chance to be part of the All Star Weekend in my hometown. But as a poor university student, obviously the big events such as the All Star Game and the Skills Competition were out of question. So instead of just settling for the other events, I chose the second best option. Volunteering. This gives fans and opportunity to be part of the many events through out the weekend, it ensures that everything runs smoothly for the players and fans, and it also gives these volunteers the possible opportunity to see the behind-the-scenes details of how this weekend works.
With the All Star festivities fast approaching, the players, fans, and staff are preparing themselves for this fun-filled weekend. On Monday, hundreds of volunteers gathered together at Scotiabank Place to get the run down of the weekend. I can't give away too many details at the moment, but with this year's great roster and the wonderful group of volunteers and staff we have, I can assure you that this weekend is sure to be a HUGE success!
As the excitement begins this Thursday, I'll be blogging about this events going on as well as those behind-the-scene details I mentioned before, and hopefully some player encounters! 🙂
Megan