Day 1: Airport meet and greet + Fantasy Draft!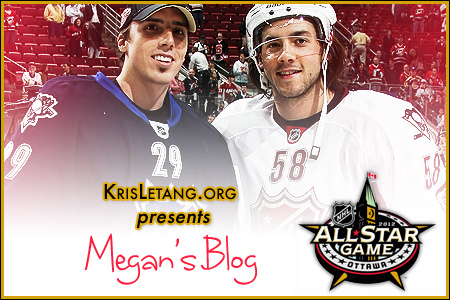 What a day!
I arrived at the Ottawa International Airport a little before 11am, ready for a day of volunteering. To be honest, going there, I had little to no clue what my tasks were going to be. For the first hour or so things were… honestly, a bit boring. I held up an NHL All Star sign and directed NHL businessmen and sponsors to the transportation booth. Thrilling. Around 1pm things took a turn for the better when I was handed a sign that said "FAULK". I knew immediately that this had to be for none other that Justin Faulk of the Carolina Hurricanes. Me and my co-worker escorted him to his car and chatted with him for a bit…
And this, my friends, was the first time I had ever met an NHL player.
Throughout the day, the players just kept pouring in – Landeskog, Johnson, Eberle, Stamkos, Iginla, Seguin, Elliott, Benn, Perry and Johanson, just to name a few.
There was even a surprise appearance by hockey legend, Mr. Gordie Howe.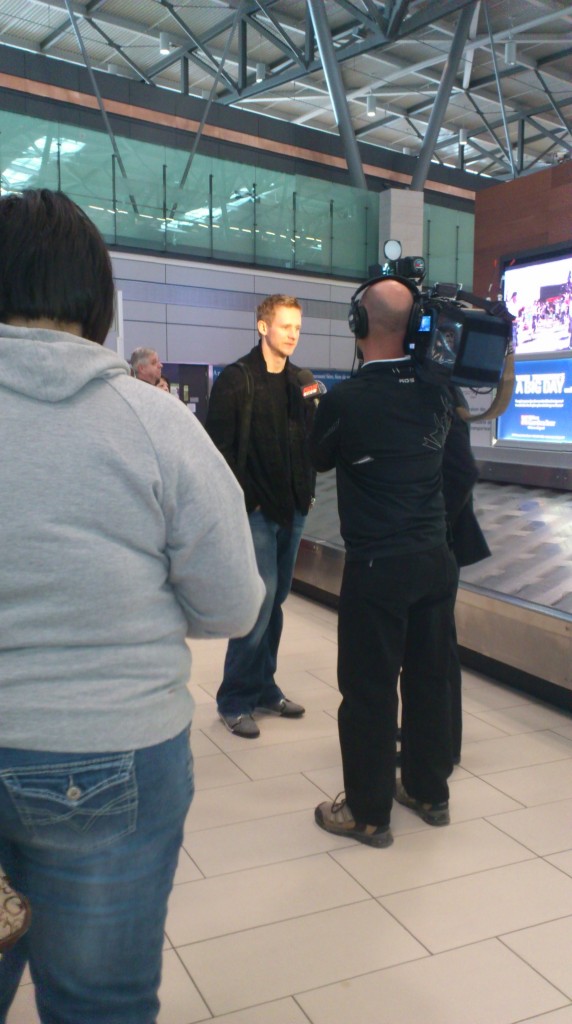 (Because I was so franticly busy all day, the only photo I managed to snap was that of Corey Perry talking with the media)
Having gone from meeting no hockey players to meeting eleven in one day is an incredibly surreal experience and I still cannot believe it happened.
And then there is the Draft. This along with the skills competition, this has to be my favourite part of the entire weekend. Unfortunately, this was not something I could volunteer at, but still had a great time watching at home. I won't say too much about it because I'm assuming most of you have seen it, but I will just say that I am very happy with the way the teams turned out. I'm loving the division of the Penguins players – I think it'll be so much fun to watch Malkin and Neal, two amazing players, battle it out from different ends of the ice.
Keep enjoying the All Star Weekend,
Megan