Day 2: Fan Fair!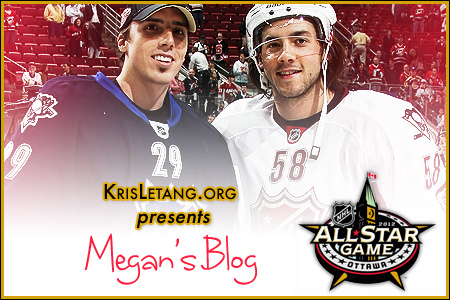 No work for me today! This was my day off to be just like every other hockey fan attending the All Star events.
Myself and Emily (@MtothILY on twitter) got to the Fanfair at noon, and wasted no time getting to see the events filling the convention center. We started off on the second floor, visiting the Reebok and Bauer area. This was an awesome way for fans to see and try out the equipment that their favourite hockey players use.
Next we ventured up to the third floor. This is where there were more hands-on activities (the hardest slapshot, miniature hockey arena for kids) as well as tons of cool photo opportunities (be a TSN reporter, HNIC) were set up. But undoubtedly those were not the main focus. The third floor also held some of the most exciting parts of the Fanfair. Player signings and special guests appearances drew in large crowds of people waiting to meet their hockey idols. To me, the real star of the Fanfair was none other than the Stanley Cup. Sitting high up for all to see, this famous trophy constantly had a line-up of people waiting to take pictures with it.
To top off the Fanfair experience, Emily spotted the Penguin's GM, Ray Shero! He was nice enough to take pictures with us and a few other Penguins fans who spotted him.
After finishing up with the Fanfair at about 3:30, we went next door to the Westin Hotel. This is where the Media day was being held, so we figured it would be a good place to try and see some players. We waited and waited, and then all of a sudden Milan Michalek and Erik Karlsson come walking into the lobby of the hotel. With the media day just starting, we knew that more players would have to becoming. Soon they started pouring in. Henrik Lundqvist, Logan Couture, Steven Stamkos, and Justin Faulk were some of the first to arrive. I was taken most off guard when I was quickly told by Emily to turn around. There stood Kris Letang and James Neal. Two of my favourites were standing right in front of me. Quickly, I rushed over and asked Letang for a picture. Shyly he said yes, then I proceeded to make a fool of myself by rambling on about how he was my favourite player and that I was wearing his jersey… blah blah blah (please tell me that happens to everyone when they meet their favourite player for the first time…).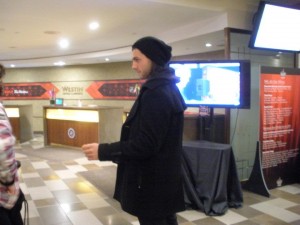 Right after this happened we got kicked out of the hotel for not being guests, but this didn't mean our search for players was over. We stood outside waiting for more players to come out as their interviews finished. We were successful in seeing many players such as Tim Thomas, Patrick Kane, Corey Perry, Evgeni Malkin, and tons others. Some of them, like Daniel Alfredsson, Jerome Iginla, and Carey Price, were even nice enough to come over and take pictures with the fans.
After six hours of pure hockey excitement, I got to see everything I wanted at the Fanfair and more. Today couldn't have gone any better!
I can't wait for the skills competition tomorrow!
Megan