Pens fall to the Sabres 6-2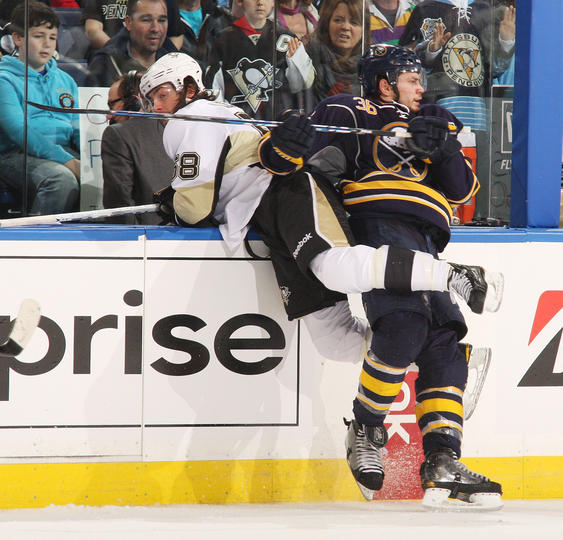 After topping cross-state rival Philadelphia, 6-4, Saturday afternoon, the Penguins were hoping to complete a weekend sweep in Buffalo Sunday for Hockey Weekend Across America. However, the Sabres ruined those plans with a 6-2 win of their own at First Niagara Center.
Dereky Roy scored two goals, one being shorthanded, and added an assist for a three-point game. Jason Pominville (1G-2A) and Christian Ehrhoff (3A) also had three-point games for Buffalo, who snapped a four-game winless streak.
The Pens have been spotting teams leads lately, but have been able to overcome them to still win the game. Buffalo skated out to a 3-0 lead just three minutes into the second period.
The Pens did chip away at the lead, but this time they just didn't have enough scoring in the tank to overcome the deficit.
Pittsburgh made it a one-goal game, 3-2, on Jordan Staal's power-play goal five minutes into the third period. The Sabres responded to Staal's goal by scoring 1:05 later to retake a two-goal lead.
Buffalo would tack on three unanswered goals in the third period to round out the scoring. Continue Reading >>
Media Content: Endgame  | Boxscore | Game Blog | Recap | Videos | Photos