New Video Translation of yesterday's candid interview!
Thank you to Krisletang.org's resident translator, Megan, for translating the video. The transcript confirms the wonderful news that Kris and his girlfriend Catherine are expecting a baby boy this fall as well as when Kris will get back to training for this upcoming NHL season.
You can watch the video here: https://www.facebook.com/KrisLetang.org/posts/165552360244780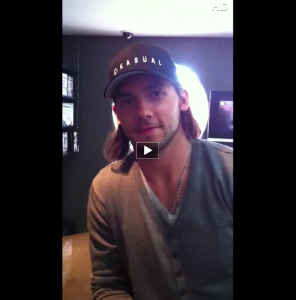 On to the transcript – >
Yannick: How's it going, man?
Kris: It's going good, you?
Yan: Of course, of course. I want to continue this tradition. It's been a while since we've made a little video for the Kasual clients who follow your career, who see my hats in the series. I want to take the time to thank you. From all of the people here at Kasual, we're very happy.
Kris: How's it going?
Yan: It's going super well. It's nice to see you. So how's your summer looking? Any news for us?
Kris: Big news for me and my girlfriend, we're going to have a baby this November. Other than that, not too much… just trying to stay in style, stay sharp for summer.
Yan: For style, I'm not worried. And staying in shape, I'm not too worried about that either. But I have a question for you, though, are you having a little girl or a boy?
Kris: We're having a little boy. We'll try to have a future hockey player.
Yan: Oh yeah, I think he'll definitely become a hockey player.  So it's a boy… do you have a name? Any details you can give?
Kris: No, we're going to keep the names until the end. We'll let everyone know, when the little one is here.
Yan: Perfect.  I'm super proud of you. It's a great step in your life. And you're continuing your great career. As far as training goes, give us a little info. Push-ups, sit-ups, chin-ups, squats.
Kris: Honestly, I'm starting off my routine like I did last summer with my trainer Jonathan in Montreal. It's very intense – something that I liked last year and would like to start doing again this summer. Work hard everyday – Monday to Sunday.
Yan: Are you skating at all?
Kris: No. I start skating at the end of July. I don't want to peak too much at the beginning of summer.
Yan: Good. That's nice to know. There are a lot of clients and hockey players that follow Kasual thanks to you, Kris. With your career, your talent, we're proud to work with you. Thank you again for the video.
Kris: It's my pleasure.