Penguins 3, Leafs 1 ! :D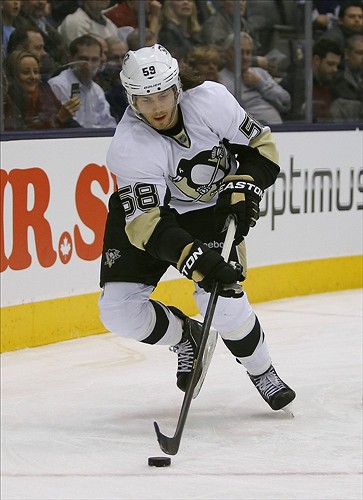 SUPER DUPER
Crosby and Chris Kunitz have been rolling all season, and now it looks like Pascal Dupuis is rolling right along with them – cementing their current status as the NHL's hottest line.
Dupuis' two-goal effort against Toronto is his second in five games, his other coming March 10 vs. the Islanders. Overall, he has six goals and an assist during that stretch.
Against the Leafs, Dupuis did a fantastic job of getting open in the slot and letting his teammates find him. On his first goal, which tied the game 1-1 with 7:18 left in the third, the play started when Kunitz won a battle on the boards behind the net and found Crosby in the circle. Crosby immediately sent a sick no-look backhand pass to Dupuis at the front of the net, who didn't miss.
"I saw him forecheck on that side of the net," Crosby explained. "Once the puck kind of ended up to 'Kuni', I knew that he'd be coming back to the front. Don't know where it ended up, but just tried to put it over there close to him. He was ready for it and made a great play to put it in the net."
On his second goal, Kunitz carried into the zone before stopping on the wall and changing direction. Dupuis skidded to a stop in the slot and waited, and Kunitz got him the puck. He blasted it past Scrivens for his second of the game.
"The first one was a great play by Sid, obviously," Dupuis said. "Around the back, no looker. He finds me back door with an empty cage. I just got to put it in. then the second one, it's an unbelievable play by Chris. Drives the defenseman all the way deep in their zone. Tight turn and finds me there by myself in the slot. I just got to fire it in there."
Dupuis always brings heart and hustle to the ice every night, using his speed to be a factor on both ends, but lately he's been shooting the puck more. He fired a total of seven shots and had three more attempts blocked. >>Continue Reading <<
Media Links
Game Recap
Box Score
Videos
Photo Gallery
Post Game: Marc-Andre Fleury
Post Game: Pascal Dupuis
Post Game: Sidney Crosby
Post Game: Coach Bylsma
Pictures