Kris Letang scores his 2nd goal of the playoffs! Pens shutout Isles 4-0; Lead Series 3-2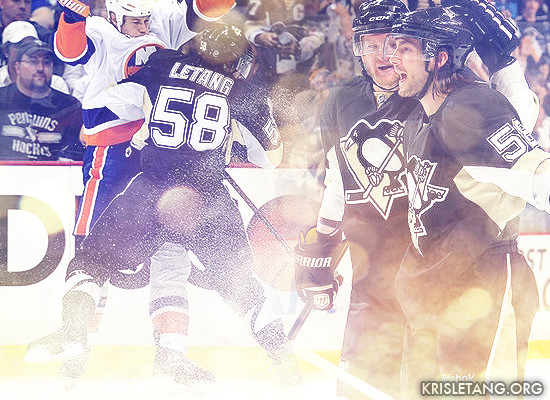 PITTSBURGH — The Pittsburgh Penguins had all the answers Thursday night. As a result, they moved to within one victory of advancing to the second round of the Stanley Cup Playoffs.
Asked troubling questions by the spirited, nothing-to-lose New York Islanders in losing two of the past three games, the Penguins finally found some answers in a dominant Game 5 performance, taking a 4-0 decision at the Consol Energy Center.
Game 6 of this best-of-7 series is Saturday night at Nassau Coliseum (7 p.m. ET; NBCSN, CBC, RDS). The eighth-seeded Isles need to win that game to force a winner-take-all Game 7 back here on Sunday.
"As the game went on, we played like we wanted to play," Pittsburgh goalie Tomas Vokoun said after making 31 saves in his first playoff start since 2007. "We kept it simple, we got in their zone and that's where we want to play. We want to be keeping the puck there for long periods of time."
The Penguins did not start out the way they wanted and had to weather a first-period storm that saw the flying-high Islanders dominate play for long periods of time. If it were not for the brilliance of Vokoun, there was a good chance that Pittsburgh could have trailed at some point.
"I think we felt he was calm and confident out there and it kind of transmitted to the other players and went from there," defenseman Kris Letang said. "We were a little bit on our heels because [the Islanders] had a good start. >> Continue Reading Recap <<

Vokoun shuts out Islanders in 4-0 Penguins victory
Read more: http://www.post-gazette.com/
Pens regain their edge, series control
Read More: http://triblive.com/

Media Links:
End Game
Box Score
Videos
Photo Gallery
Game Highlights (05.09.13)
Geico Coach's Corner: Post Game…
Post Game: Sidney Crosby (05.09…
Post Game: Tyler Kennedy (05.09…
Post Game: Tomas Vokoun (05.09….
Letang Goal (05.09.13)