Penguins move on to the next round; eliminate the Islanders with 4-3 win in OT!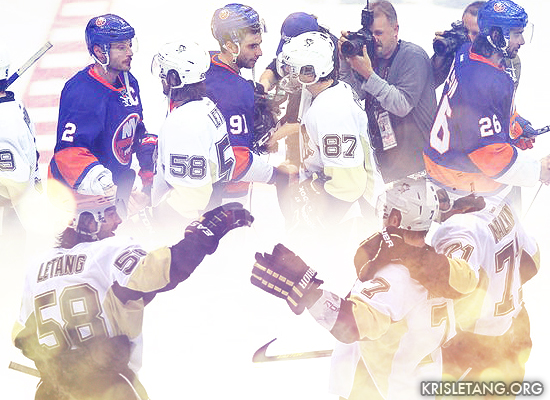 UNIONDALE, N.Y. — The Pittsburgh Penguins are built to win the Stanley Cup. They took another step toward their goal Saturday night.
Brooks Orpik scored 7:49 into overtime to give the Penguins a series-clinching 4-3 win against the New York Islanders in Game 6 of the Eastern Conference Quarterfinals.
Orpik's slap shot from just inside the blue line was the defenseman's first goal in 106 games. Evgeni Malkin gathered the puck behind the Islanders net and passed to Tyler Kennedy near the goal line. Kennedy fed Orpik at the left point and his long shot beat goalie Evgeni Nabokov.
"It's definitely a good feeling," Orpik said after scoring his first goal of the season. "There was a lot of traffic in front, so I just wanted to keep it short-side. [Tyler] made a great pass to just put it on the tape for me. I just tried to put it on net as hard as I could."
Top-seeded Pittsburgh trailed by one goal three times before finally getting past eighth-seeded New York. The Penguins are certainly relieved to be headed to the second round for the first time since 2010.
"We expected to win the series here," said Penguins forward Pascal Dupuis, who had five goals in the six games. "We've lost the last three [first-round series] we were in, and this one feels great.
"They're all going to be tough. They're all going to be hard. It's the way you stick with it, it's the way you battle. This one, [Jarome Iginla] said it best I think after Game 4: It could be the best thing that happened to us. Feel a little adversity and feel what it feels like to battle. This one feels awesome."
Penguins goaltender Tomas Vokoun, who was inserted into this series to start Game 5 instead of struggling Marc-Andre Fleury, made 35 saves for his second straight victory.
"We needed the win and we're glad we don't have to play them tomorrow," Vokoun said. "Give them a lot of credit. They played a great series and they played really hard. They're an up-and-coming good team. They gave us everything we could handle."
Penguins captain Sidney Crosby said, "To be thrown into the middle of a series and play the way [Vokoun] did, that's huge. Especially tonight, [when] they carried the play and had a lot of great chances. He was sturdy and solid for us."
The Penguins advance to the Eastern Conference Semifinals, where they will face the Ottawa Senators. >> Continue Reading <<
Media Links:
End Game
Boxscore
Videos
Photo Gallery
Post Game: Brooks Orpik (05.11…
Geico Coach's Corner: Post Game…
Game Highlights (05.11.13)
Post Game: Tomas Vokoun (05.11…
Post Game: Sidney Crosby (05.1…
Brooks Orpik Goal (05.11.13)