Penguins host military morning skate!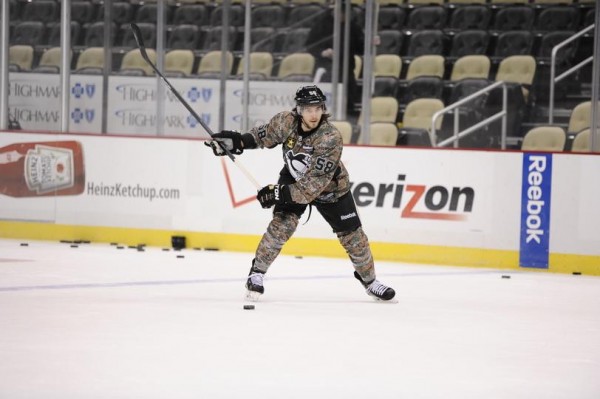 Aaron Cohen approached head coach Dan Byslma with a grin wider than a four-by-six hockey net.
"Thank you, this is a dream come true," Cohen said, as he shook Bylsma's hand.
Cohen, a Marine Corps veteran and Wounded Warrior, was one of 11 military veterans on hand to watch the Penguins' morning skate on Wednesday – including Wounded Warrior Project veterans, ALS veterans and "Hockey Saves" veterans.
"This is absolutely incredible," Cohen said. "I've always been a Penguins fan because I thought they were the best team, and they are (laughs). Just having us here means so much to not only me but also everyone else I've told about being able to come out here."
The veterans watched morning skate from Suite 66 as the Penguins donned camouflage jerseys. Every Penguins player had a patch sewed on the chest of their jersey supporting a different military unit.
Penguins players will wear the same special camouflage jerseys during the warm-up Wednesday night, and those jerseys will then be autographed and auctioned at www.nhl.com. Proceeds from the auction will go to the Wounded Warrior Project, Austin's Military Playroom at the new Naval Hospital Camp Pendleton and the Pittsburgh Penguins Foundation.
A number of military veterans will attend Wednesday's game as special guests of the team and its corporate partners – some being hosted in Evgeni Malkin's charity suite, and others receiving tickets form ATI, PNC and the National Flag Foundation. >> Read More <<