Pens fall to the Flyers 2-1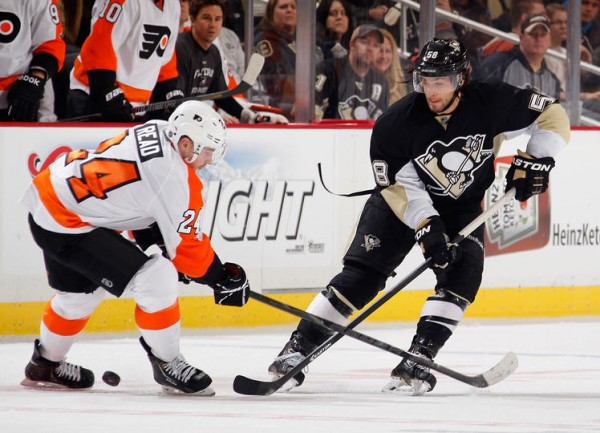 Gallery
Game Day Morning Skate/Pens Report
PITTSBURGH — The Philadelphia Flyers and Pittsburgh Penguins continue to go in opposite directions.
Brayden Schenn scored twice and the Flyers won their third consecutive game by beating the Penguins 2-1 on Wednesday night at Consol Energy Center, handing Pittsburgh its third loss in a row.
Philadelphia (7-10-1) has climbed out of the basement of the Metropolitan Division. The Flyers are in seventh place with 15 points, seven behind first-place Pittsburgh (11-7-0), which owns a one-point lead over the Washington Capitals. Despite having the fewest goals in the League (33), the Flyers are three points out of the last playoff berth in the division.
"We're winning right now. It was a good win," Flyers coach Craig Berube said. "We didn't get off to a great start, but our goalie was really good and gave us a chance to win and get our feet under us. And more than anything, I like the fact that we grinded the win out.
"We played the night before and did a lot of little things right. I thought we did a good job of getting the puck out and getting it in deep and it's just another game. There's a long way to go."
The Penguins outshot Philadelphia 31-21, including 6-3 in the third period. Flyers defenseman Luke Schenn recorded the game's final shot on goal, a wrister with 7:13 to play.
"We're not doing enough around the net and in the net to get those goals that I think were there," Penguins coach Dan Bylsma said. "We had opportunities, there were rebounds, there were situations, but we're not able to get in their end and finish and find those rebounds and go there to get that second-chance opportunity.
"With no even-strength goals in the last two games, you look at that as something we have to do better."
Brayden Schenn scored his second goal of the game with 1:20 remaining in the second period to break a 1-1 tie. With Pittsburgh's Pascal Dupuis off for slashing, Jakub Voracek sent a shot from the point into traffic in front of Marc-Andre Fleury. The puck bounced off a few players, including Steve Downie, and came to Schenn, who tapped it in for his sixth goal of the season.
"[Schenn] produces," Berube said. "He's good around the net, puts pucks on net. He's one of those guys who knows how to score, knows how to get points and help the team win by producing." >>Gamecenter Recap