KrisLetang.org turns 3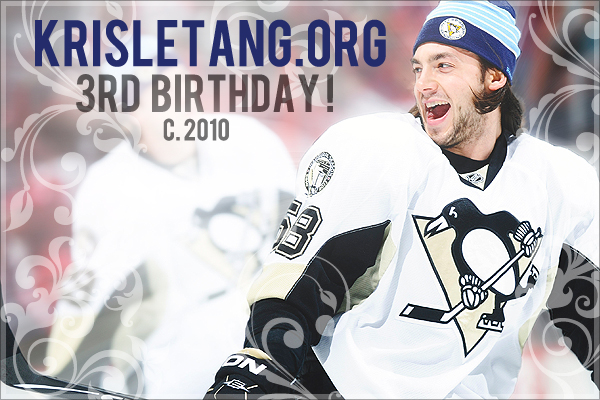 This baby is 3 years old – wow time flies when you're having fun! KrisLetang.org started as a tribute to Kris Letang's talent and career – to this day it still very much is!
2013 for KrisLetang.org saw the end of the lockout, Penguins going to the playoffs and getting eliminated by the Boston Bruins and Kris' first year as a Norris Trophy nominee and signing of an 8-year contract with the Pittsburgh Penguins.
The biggest growth in fan participation across social media of the history of the site occurred in 2013 from Facebook to Twitter, fans posted their comments, opinions, and stories with KrisLetang.org – of which I hope continues in the future!
What lies ahead for KrisLetang.org:
2014 Sochi Olympics! Regardless if Kris plays for Canada or not, I will be posting coverage on the hockey events!
Social Media increase – I'm working on adding new accounts for sites like Instagram.
Site growth – this is my goal every year as I try to see how I can expand the site and make it the best site for the fans.
During the Olympic break in February, since there will be no NHL games, I will be doing a fun period. TQA – Tanger Quality Assurance, that is a survey for KrisLetang.org where fans can tell me how to help them, make the site better, etc. I look forward to that, for I promise to make it boring but fun to participate it.
Kris has the best fans and this fan site is a true testament to that!
Thank you so much for the support!
-Theresa