Kris Letang at the Children's Practice and Luncheon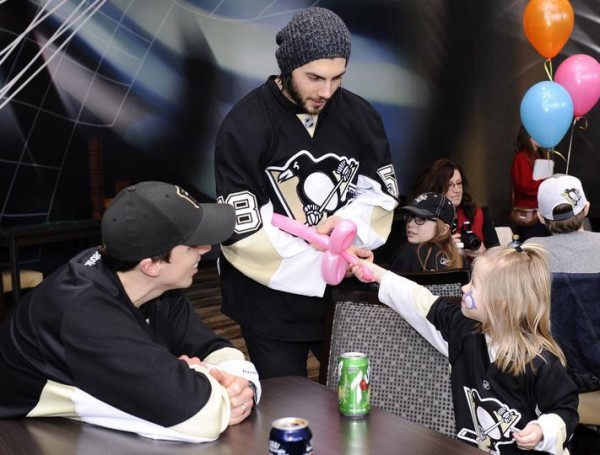 From the Pittsburgh Penguins site:
When Joe Vitale walked into the Lexus Club, his baby blue cast was bare. No signatures. No stickers. However, after he walked out of the Lexus Club Tuesday afternoon, it was a different story.
Vitale gave the kids attending the Children's Practice and Luncheon, and sometimes even the older fans, a chance to sign his arm cast. Before he left, he was about 15 signatures strong and grinning through it all.
The Children's Practice and Luncheon gave the Pittsburgh Penguins the chance to host children and families from the Make-A-Wish Foundation, Children's Institute and Children's Home for a practice and a lunch with the players afterwards.
Diane Mastramico attended with her son Rocco. Rocco and his family were some of the first in the arena and took advantage by claiming seats right on the glass.
"Last week, we came to the hockey game with Mario Lemieux and then we got invited to come today for the practice and the lunch," Mastramico said. "My son is excited to meet all the players … My son is the hockey fan, we weren't avid hockey fans, but he really got us interested."
At the luncheon, players trickled in after showering, but injured players Vitale and Paul Martin were some of the first to show up.
Martin said that the atmosphere of the event gives players a lot to take away from it all.
"I just think the most important thing is when you just connect with a kid," Martin explained. "You get to spend some time and talk to them, talk about their favorite players. You can tell how much it means to them and that's what we get out of it. Being able to spend time with them is the most important thing."