Get Well Project !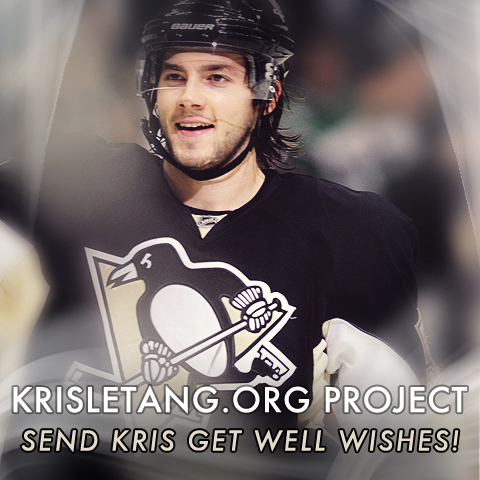 A few years ago, I hosted two projects to wish Kris well during injury and the holidays (in 2011/2012) – so this will be of the same format and construction! I will put together a book with all the wishes (all the pages will be professional printed) and mail it to Kris through the Pittsburgh Penguins organization.
Information regarding the project:
What can I submit?
Traditional art, Digital art, scanned drawings or images, scanned collage, or typed letter or message – anything as long as it meets the theme and criteria of the project. If you have any questions about what can be submitted, feel free to send an email to krisletang.org@gmail.com.
Can I mail you my card or submission?
Do to the overwhelming response from fans, I cannot accept mail to my personal address. All submissions must be emailed.
What are the criteria?
Must be 'Get Well' wish!
Finished size must be standard letter (8.5 x 11″)
File formats: .jpg, .png, Word document or PDF form.
What will happen to my submission?
I will take all the submissions, have them printed professionally and bounded. Then I will personally pack and ship the book to Consol Energy Center.
Submission deadline: March 14, 2014
Email Submissions to: krisletangorgproject1@gmail.com
If you have any questions, please email me at krisletang.org@gmail.com !
Thank you!!
-Theresa