Penguins vs. Blue Jackets – Game 1 – Recap / Media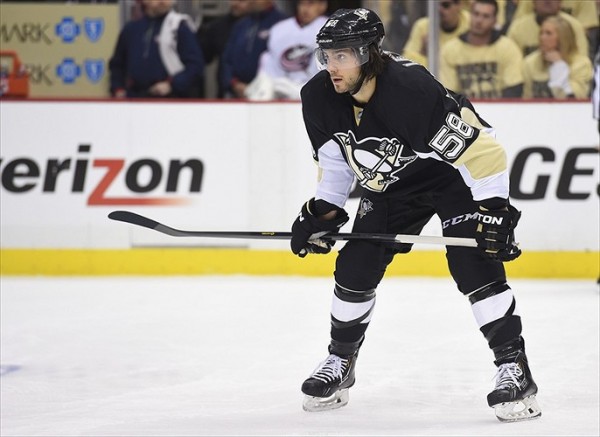 Good morning everyone and I hope you all are enjoying your Easter weekend. This update is a few days late, so I apologize for that – been busy with work and getting the Tanger book finished for printing.
On to the update – it will be condensed to just have photos and links, future updates will be much more thorough.
Penguins Report: Game Day vs. Columbus (Game 1)
LETANG GETS A MESSAGE
Defenseman Kris Letang had a rough night on Wednesday. The two biggest ill-advised plays involving him were 1) on Pittsburgh's first power play, when he turned the puck over to Blue Jackets forward Derek MacKenzie at the blue line – who skated in on a breakaway for a shorthanded goal; and 2) taking an undisciplined penalty late in the second period when he gave Boone Jenner a retaliatory slash after play had already left his zone.
That resulted in the coaches playing Letang just 3:55 minutes in the third period (including just one 48-second shift in the final 6:30 of play after taking a second unneccesary penalty, an interference call with the Pens on a power play). That's a noticeable decrease from his usual ice time as the effortlessly-skating defenseman usually logs upwards of seven or eight minutes a period.
The turnover was certainly troubling, but the retaliatory slash on Jenner was what irked Bylsma the most. He said as much after the game, and reiterated that again today. Even with the understanding that Letang is an elite player and is targeted as such, Bylsma said his defenseman has to work on keeping his composure in these playoffs. Like he said, "that was an undisciplined penalty and one that could cost us." And with the benching, Bylsma believes that Letang got that message loud and clear.
"I think he got a message," Bylsma said. "Whether it was a voice or not playing or a nice talk, he got a message. And that's something he's got to be better at and that's something we've got to be better at as a group." [ Source ]
Photos: