Kris Letang gets his 10th goal, 34th assist in Pens 5-4 win over the Senators
Assistant coach Gary Agnew gives his three impressions from this game, #3 was about Kris:
3. I thought (Kris) Letang's game was dynamic. It's almost like he decided that he was going to show everybody in Ottawa that he's a better player than Erik Karlsson. I thought the two of them had a few battles going all night.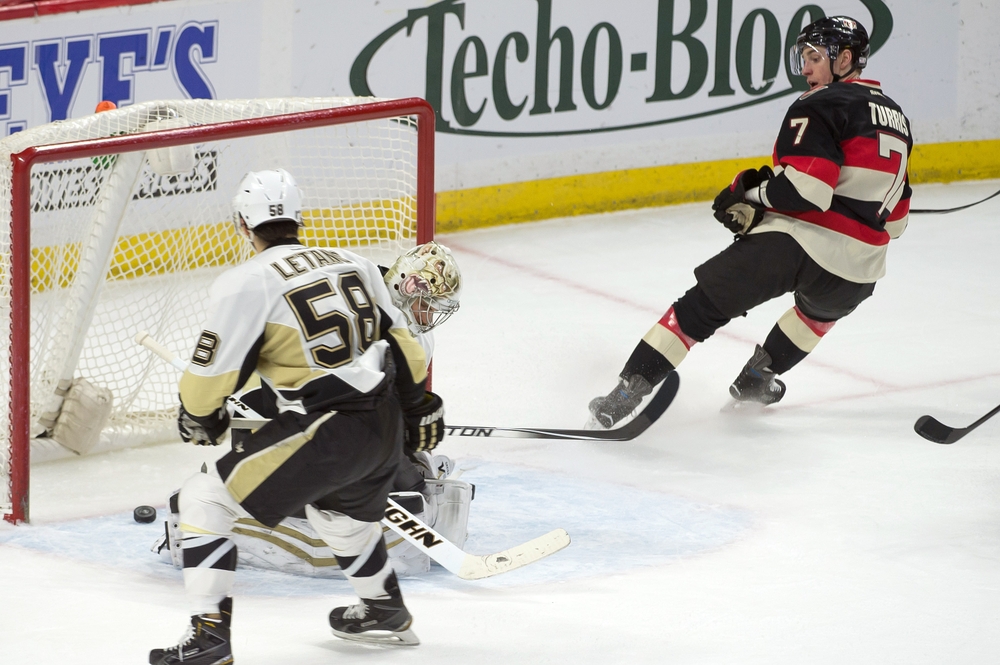 Media Links
Recap
Box Score
3 Impressions
Game Gallery
SCORING SUMMARY
1

ST

PERIOD
01:01
PIT
Kris Letang (10) ASST: Beau Bennett (6), Brandon Sutter (9)
1 – 0 PIT
09:57
PIT
Sidney Crosby (18) ASST: Rob Scuderi (8)
2 – 0 PIT
2

ND

PERIOD
13:52
PIT
Evgeni Malkin (21) ASST: Blake Comeau (10), Kris Letang (34)
3 – 0 PIT
3

RD

PERIOD
05:09
OTT
PPG – Mika Zibanejad (14) ASST: Bobby Ryan (24), Cody Ceci (12)
3 – 1 PIT
09:04
OTT
Mike Hoffman (18) ASST: Bobby Ryan (25), Erik Karlsson (24)
3 – 2 PIT
14:53
PIT
Sidney Crosby (19) ASST: Chris Kunitz (20)
4 – 2 PIT
15:51
OTT
Mark Stone (13) ASST: Kyle Turris (23), Erik Karlsson (25)
4 – 3 PIT
16:04
OTT
Kyle Turris (11) ASST: Eric Gryba (8), Mark Borowiecki (7)
4 – 4 Tie
OT PERIOD
NONE