Penguins end road trip with a win, Kris Letang leads defensemen in assists with 43
Penguins ended a long road trip with 2 points and a win! The final score for the game was 3-1 Penguins, with Kris Letang getting an assist and being the 3rd star of the game. He currently leads defensemen in assists (43) and his second in points (54) behind Ottawa's Erik Karlsson. Kris has been on top of his game and playing very well. Chatter around the sports blogs is that he should be considered not just for the Norris Trophy but now the Masterson Trophy. That award exemplifies the sportsmanship and devotion to the sport. Next game is against the St. Louis Blues in Pittsburgh on Tuesday, March 24 at 7:00 PM.
From the Penguins 3 Impressions from Pens' writer Sam Kasan – these 2 were focused on Letang.
2. Shots, Shots, Shots
I asked Kris Letang after the contest against Dallas what the Pens needed to do to create more offense. He told me that they needed to shoot more, shoot everything, "even if it isn't a quality scoring chance." The Pens didn't seem to get the memo in the first period against the Coyotes, but after the intermission, they came out firing early, late, and in between. They put up 21 shots in the middle frame and it resulted in two goals (though one was more just being in the right place for a fluky score). A perfect example of good things happening from shooting more came from Letang himself. Off of an offensive zone faceoff win, Letang took a slap shot on a bouncing puck that was tipped by Daniel Winnik and found its way into the net.

3. Stepping Up
Speaking of Letang, the Pens really needed an extraordinary effort from him against the Coyotes. Defenseman Christian Ehrhoff was a late scratch and the team played the entire 60-minute contest with only five blueliners. That meant the entire D corps had to shoulder a heavy load, but it was Letang playing the role of Atlas. He skated a season-high 31:09 in the contest and was difference maker at even-strength, on the power play and shorthanded. He finished the game with four shots and three hits.
Source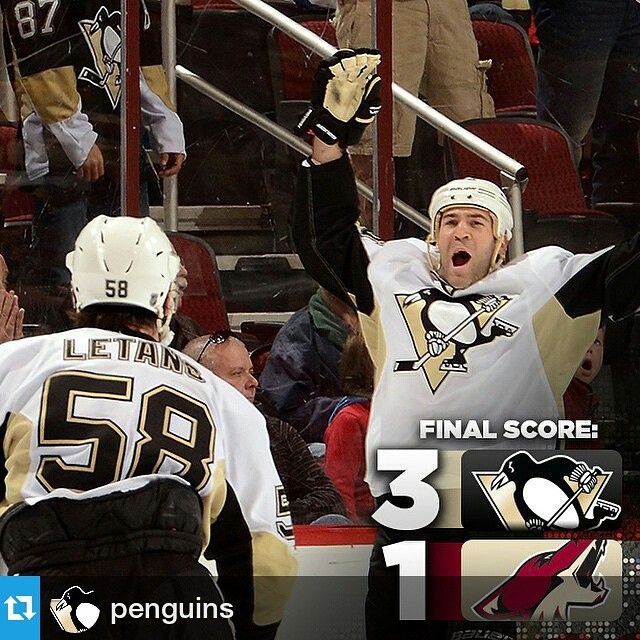 Media Links:
Game Gallery
Recap
Box Score
Infographic
Post Game Interview

Photos: