Kris Letang and the Penguins participate in Project Bundle Up at Dick's Sporting Goods!
One of my favorite events of the season is Project Bundle Up! The Penguins are partnered with a child and they go shopping for Winter wear items to prepare for the harsh winters in Pittsburgh!
Pens, Kids Have a Blast at Project Bundle-Up

The reason for the game was pretty simple. "I wanted to," Taylor said through fits of giggles as she clutched the pink and purple stuffed animal the captain had bought her. "I wanted to see if he could find me. He never could!"

While Crosby and Taylor had success finding the perfect winter gear – determined to get everything in either pink or purple – Kris Letang was hitting a wall.

"She doesn't like my choices," Letang said to Crosby as they crossed paths, adding to his shopping partner, "I'm going to let you do everything, I'll just hold the bag."

Something new to the kids was the amount of cameras following players around to capture the heartfelt moments. While some embraced this fact, others made it their mission to avoid cameras at all costs.

"I've never been shopping with so many cameras around me before!" said 16-year-old Tryan as she fixed her hair.
tweets:
Letang to Crosby: "She doesn't like my choices…"

Little girl: "Nope. ¯\_(ツ)_/¯"

Crosby to little girl: "You tell him!" pic.twitter.com/6vaxByHfmj

— Pittsburgh Penguins (@penguins) November 7, 2016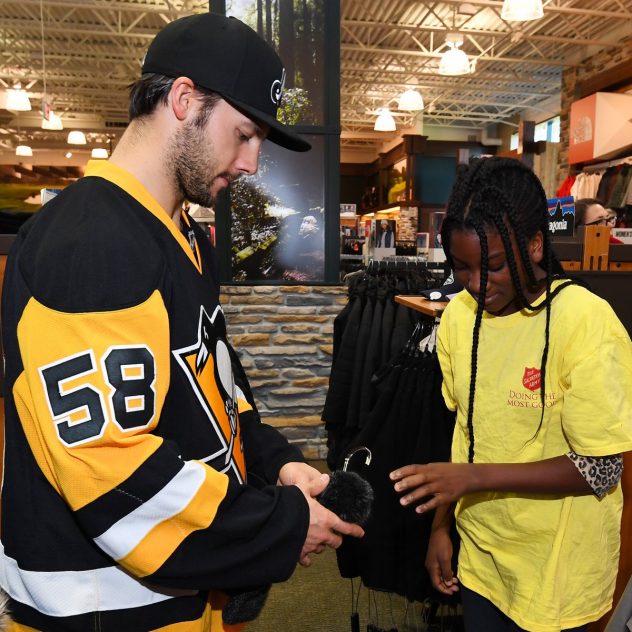 Videos