Kris Letang on a chocolate bar!? Details on the event and how to purchase them!
The headline is true and we have the pictures to prove it! Kris Letang in collaboration with Sarris Candies released his own line of chocolate bars. The candy comes in two flavors: Crisp Rice & Pretzel Milk Chocolate Bars and Peanut Butter Milk Chocolate Bars! (Delicious!) Yesterday, Kris with Sarris Candies had an event to announce the chocolate bars to the world. The reaction was both surprise and excitement as this is such a cool career highlight but also a novelty that fans can enjoy.
Where can you purchase these chocolate bars?
The bars are available at local Pittsburgh locations such as Giant Eagle, but if you do not live in the Pittsburgh area, you can purchase them through PLBSports.
Here's a link to a 4 pack of the bars.
Here's the social media and photos from the event: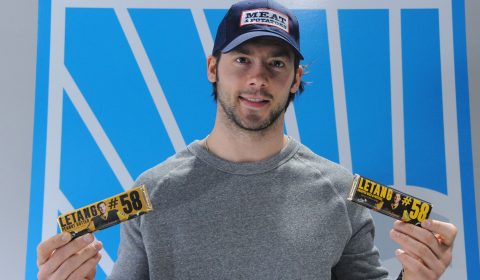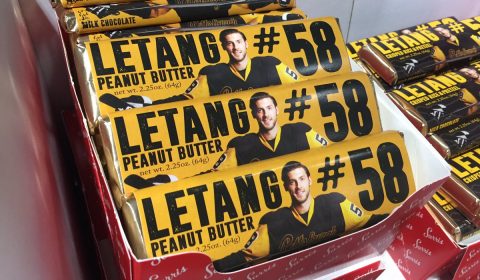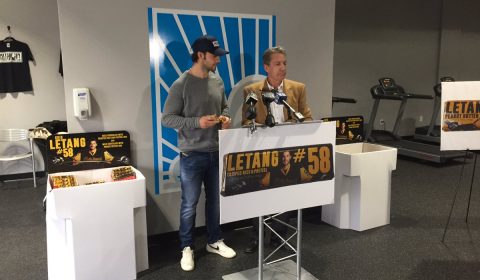 Kris Letang addicted to chocolate? You better believe it https://t.co/RRM9n4A3Bh pic.twitter.com/JmcEIAc1jw

— Post-Gazette Sports (@PGSportsNow) February 15, 2017
.@penguins player Kris Letang introduces his new candy bars. #WPXI #Pittsburgh #PGH @Letang_58 pic.twitter.com/7Hg62IAF66

— Tony Ruffolo (@WPXITonyRuffolo) February 15, 2017
Few Penguins players are more aware or strict with what they put in their bodies than defenseman Kris Letang.
But he's also human.
And, like all of us, has his guilty pleasures.
"People that know me really well, know that I'm addicted to chocolate," Letang said. "I don't go a day without eating it."
Now, Letang can eat his own chocolate bar.
On Wednesday afternoon at Pittsburgh Pro Fitness in Emsworth, Letang introduced two Sarris-made candy bars that carry his endorsement and he even helped design: milk chocolate filled with peanut butter and milk chocolate with crisped rice and pretzel.
Both 2.25-ounce bars are currently available only at Giant Eagle and Get Go.
"It was a lot of fun designing the project and picking the chocolate," Letang said. "It was hard because it was so good."
Apparently Letang couldn't decide whether he liked milk chocolate with crisped rice or pretzel better, so the end result was him picking both.
"It's unique," Letang said. "I designed this. It's the one and only."
And, apparently, genuine.
Letang has always been extremely health-conscious, careful with what he puts into his body and maniacal about his workouts.
But even before games, Letang slams back two peanut butter cup snacks to get him going.
"It's something I always have, every day as a dessert," Letang said. "I just feel that no meal is complete until you have dessert. I'm on the chocolate side of desserts.
"You won't be surprised if you go to my house, and you find all those chocolate bars everywhere. To have my own now, it's pretty cool."
Designing and marketing his own chocolate bar was something that Letang insisted dates back to his youth, growing up in Montreal.
Whether it was billboards or in-store advertisements — maybe even the famed Mario Bun — Letang saw pro hockey players pitching chocolate or sweets and figured maybe one day that could be him.
"I'm pretty excited to have this," Letang said. "It's a dream come true. Growing up, I played hockey. Obviously I liked hockey. I could see all those commercials, athletes on billboards. To have my face on a chocolate bar, it's pretty exciting."