Penguins beat the Golden Knights 5-4; Fleury returns to Pittsburgh
The Penguins and Golden Knights were going back and forth on goals, it was the Pens that came out on top winning 5-4. The win was great for the Pens who go on face a hot Dallas team this Friday, but the big highlight of the night was Fleury's return to Pittsburgh. There were many signs from fans during warmups and the crowd gave Fleury a standing ovation after a tribute video was shown.
It was an emotional game for everyone present and all Penguins/Flower fans all over the world. I was emotional during the game, Kris is my favorite player but Flower is my 2nd fave. He was the first Pens player I bought a jersey for! The Penguins put on a great reception for him, showing how classy and professional this organization is.
After practice before the game, Fleury spent time with his best friends and former teammates Kris and Sid: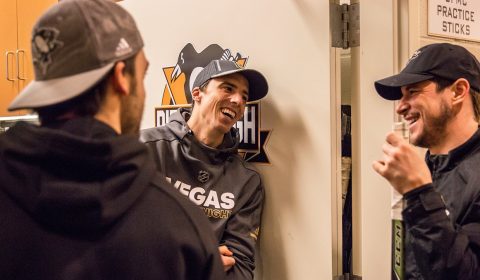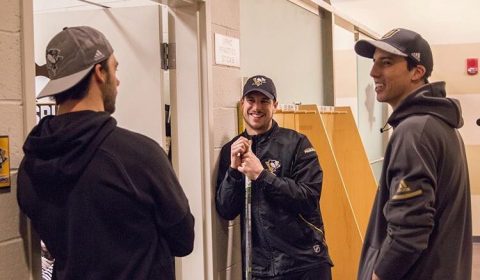 Game Media:
Recap
Game Gallery
Team Stats
Infographic
Snap Shots
Pens fans give Fleury a hero's welcome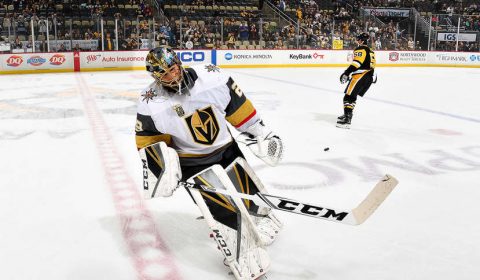 Videos:
Condensed game

"Now that he's on the other side, you have to find a way to score goals and you know he's going to be on top of his game… I would be pretty happy to put one past him." – @Letang_58 on Fleury's return. #NHLTonight @Rupper17 @Penguins pic.twitter.com/UBY6Spwmv9

— NHL Network (@NHLNetwork) February 6, 2018