Let me just start of by saying if it weren't for my AMAZING friend Maddie there is no way I would have met Letang as much as I did. She is an avid follower of Krisletang.org and gets updates on signings, since he is her favorite player.  He's my baby brothers favorite, Joe is 11. My favorite is by far Jordan Staal but I still LOVE meeting Letang. Besides Letang I have also met Kennedy, Letestu, Conner, Asham, Fleury, Goddard, Byslma, Rupp, Orpik, Goligoski-yes, I know he got traded – and Dupuis!
Friday January 21, 2011
David Lawrence Convention Center Car Show
My friend, Maddie, had texted me the earlier week saying that Kris was going to be at a car show, and since he is her favorite I agreed to go and wait with her, since we are both 14, it would be bad for her to be alone. We got there about an hour early and the line was already wrapped around the inside of the convention center. Finally, after two hours we met him. Since it was a car show you could get as many things as you wanted signed. I got my calendar which already had about six players sign it on their page, it's one of those that each month is a player, Kris was month October. I was also getting him to sign my brother's jersey since he is Joe's favorite player; yes I know I am a good sister-just kidding! I had also gone with Madison and Rachel, at the last minute Rachel wimped out and wouldn't have him sign anything, which she later regretted. So when he got to signing my stuff he said "where do you want me to sign?" I just said "umm, it doesn't matter". He signed it with the most accurate signature of his and then we asked for a picture, which he didn't object to. He smiled and a girl, who we later found out looks like his girlfriend, went to take the picture. He then laughed and said, "Umm, you turned it off." She then smiled and turned it on. We got our picture and were in heaven.  We waited for a little bit after to take pictures of him.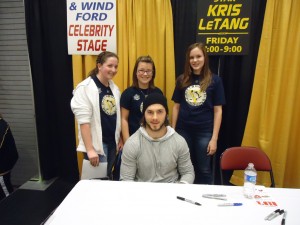 Saturday March 26, 2011
Southpointe IceoPlex
We had just gone to watch them practice since it was a Saturday, we had no school, and we wanted to see them practice. This was our third practice Maddie and I had been to, each one before Fleury had signed after and at one Asham signed. So we were kinda expecting at least one signature. I of course snapped a few pictures of Staal and Maddie got a bunch of pictures of Letang. Before the practice had even started Byslma was signed autographs and I got one. The last one! He was walking away and saw me and said "I can do one more"! I was *that* one more! The practices are from 11-1 but if you ever go you notice some players start leaving at about 12 so we went outside, to follow Dan Potash, but that's not relevant. We went out to the line and man was it long. Every other practice we went to was either a Wednesday, we skipped school-I know rebellious (:- or a Monday that our school had off, so we weren't used to this long line. But man was it cold. The other ones we had been to were in January and we had waited a few hours for those so we were used to the cold. By about two hours of waiting outside I was getting numb, and then all of a sudden we saw Geno. He walked into the IceoPlex from the side door and came out a few minutes later. About another hour passed and finally we saw a car, that someone said was Fleury's, pull away, then come back! And guess who got out of the car? Kris Letang! He was driving Fleury's car! Within about 30 minutes of that Letang and Fleury came and signed autographs, I got them both for my brother since I had already met both of them and he loved them both. I also got a picture with Fleury and Maddie got a picture with Letang. When we left we waited at the curbside at the top entrance and we saw Letang leave and come back and park right beside us, he was waiting for Fleury to be done signing. When Fleury left they sped off, but don't we all speed at one point? They had to be doing at least 60 on a 25 street! Rebels!