Original source and credit to PensHead.com:
Recently there surfaced a video of Kris Letang giving interview in French and showing off his new tattoo that he got over the Olympic break. Here it is:

I am no French expert so i asked my friend Vanessa V an awesome French Canadian girl who plays better hockey than you to translate it for me. In the beginning of the interview Kris talks about going back to Montreal to see his family. He also says the team (Penguins) is doing well, that the boys are working hard and that there's no feel of a Stanley Cup hangover.
Then he goes on to talk and show his tattoo. Check out his new ink pics.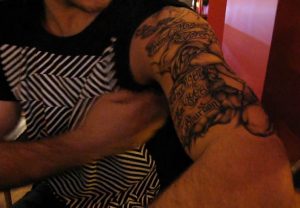 Top portion of the tattoo is dedicated to his grandmother. Kris says that she always has been there for him.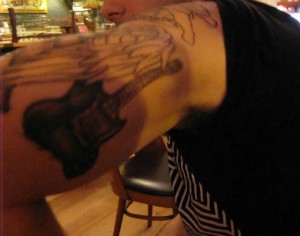 Bottom portion of the tattoo and the guitar part is obviously dedicated to Letang's best friend and former roommate Luc Bourdon who used to play for Vancouver Canucks and tragically died in a motorcycle accident on May 29, 2008. During the 2008 NHL Draft, the Canucks' management wore guitar pins to remember Bourdon, because he was an avid guitarist.
Vanessa also adds that Kris has definitely not forgotten where he was from – makes her very proud.