MidTerm Grades for Kris: an A+ !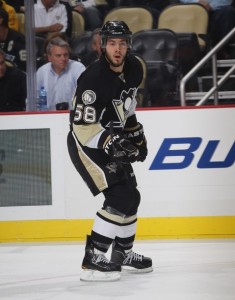 SBNation posted an article of the midterm grades for the Pens. The namesake of this site, received an A+, but we aren't too surprised at that for we know how well Kris is playing and we are extremely proud 😀 !
KRIS LETANG
On pace for: 12 goals, 60 assists, 72 points
Grade: A+
The 23-year-old defenseman has already tied his career high in points this season and we're only halfway done.  Letang is currently third amongst all NHL defensemen in points, and his plus/minus rating of +23 is second among rearguards (and leads all Pens). Letang also leads all Penguins with 23:27 of ice time per game, up almost two full minutes from what he played last season. He's playing the puck and skating well, and has relegated the Penguins career of former No. 1 defenseman Sergei Gonchar to the history books. Letang is a legitimate contender for the Norris Trophy as the league's top defenseman, which is a tremendous jump in his play and deserves the highest mark.