Penguins beat the Canadiens ! Kris got 3 assists!
MONTREAL (AP) – Alex Goligoski scored twice and added an assist, and the Pittsburgh Penguins scored four power-play goals to end a three-game losing streak with a 5-2 win over the Montreal Canadiens on Wednesday night.
Tyler Kennedy and Jordan Staal scored with the man advantage in the second period to give Pittsburgh a 3-2 lead. Goligoski, who opened the scoring at even strength in the first, and Chris Kunitz added power-play goals in the third.
Marc-Andre Fleury made 20 saves for the Penguins, who won without Sidney Crosby in the lineup for the first time since their captain was sidelined by a concussion six days ago.
David Desharnais scored his first NHL goal to give Montreal a shortlived 2-1 lead early in the second. Tomas Plekanec scored his 13th to tie it at 1 at 13:15 of the first, just 18 seconds after Goligoski opened the scoring with his first goal of the game.
Carey Price stopped 31 shots for the Canadiens, who ended a three-game winning streak that began with a 2-1 shootout victory over Pittsburgh on Thursday.
Game highlights:

• Kris Letang was originally credited with the Penguins' last goal, scored on the power play with 8:31 left to play in the third. However, the goal was later awarded to Chris Kunitz after it was determined that the Penguins forward had redirected the puck past Price while battling in front of the net. Letang instead got an assist on the play, giving him three on the night. His 33 tallies lead all NHL defensemen.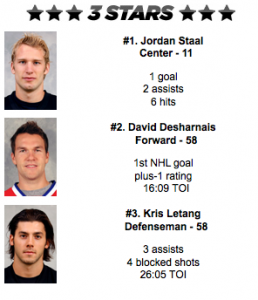 Pictures from the game:


Pictures credit to GettyImages and ApImages