Letang's strong play has earned Norris consideration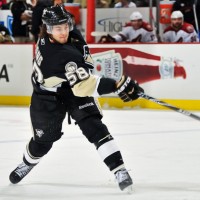 Kris Letang blames the media for the buzz surrounding his Norris Trophy candidacy.
"I try to not think about it, but you guys are always reminding me about where I stand," a smiling Letang told NHL.com earlier this week. "It's your fault."
We're not going to apologize.
It's not our fault the Penguins' top defenseman has 41 points and a plus-21 rating. It's not our fault he has 18 points on the power play. It's not our fault that he's playing nearly 24 minutes a game, including more than two minutes on the League's best penalty-killing unit.
His overall consistency, his physicality against some of the League's best and most physical forwards, his popularity in Pittsburgh — not our fault.
But, we will take the credit for Letang's curiosity to see how his stats stack up against some of his competitors for the trophy, such as Atlanta's Dustin Byfuglien, Detroit's Nicklas Lidstrom, Phoenix's Keith Yandle, Boston's Zdeno Chara, and even long shots like Anaheim's Lubomir Visnovsky and Colorado's John-Michael Liles.
"Yeah, I look at the numbers," Letang admitted. "Obviously Buff is up there with a lot of goals, and Lidstrom, he's been the best defenseman every year and he's up there. Yandle, I know him from (junior hockey in the QMJHL) because I played against him, so I knew he was capable of doing a lot of good things. I definitely look at numbers and see where I rank."