2007 World Junior Hockey Championships – Megapost!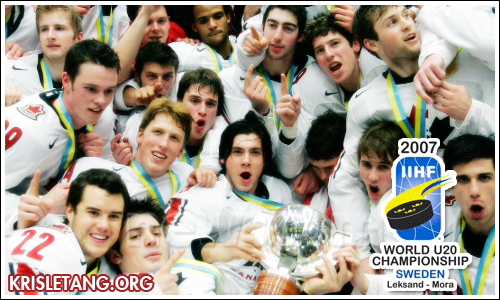 The 2007 World Junior Hockey Championships was held in Mora and Leksand, Sweden between December 26, 2006 and January 5, 2007. Team Canada won it's 3rd consecutive gold medal, their first on European ice since 1997, in Geneva, Switzerland. The format for this WJC changed from the round robin format to resemble the one used by the NHL.  Teams would receive 3 points in regulation, while teams wining in overtime would receive 2 points, and teams losing in overtime would receive 1 point. If the game remain untied after overtime, an NHL-style shootout with 3 skaters instead of 5 would be held.
Kris Letang won his 2nd consecutive gold medal as a member and captain of Team Canada.  He had 6 assists and a +4 rating during this WJHC.
Here are links to statistics, rosters, pictures, videos, and more media:
Hockey Canada Event Page
Team Canada player statistics 
Schedule / Results
Roster
Day in Review
Player Profiles – PDF