KrisLetang.org 2nd Birthday!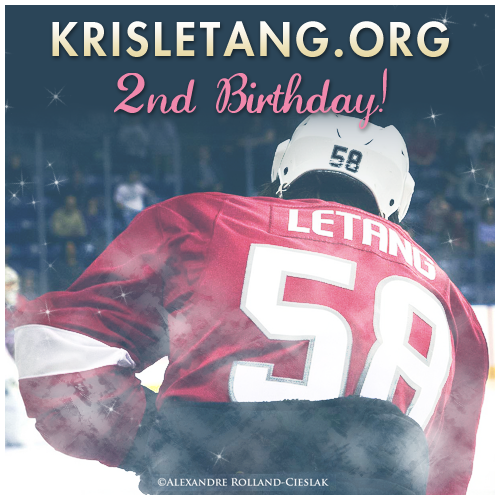 Today marks the 2nd birthday for KrisLetang.org!
2012 was an interesting year for the fan site and myself as a fan; for it had both great and bittersweet moments. During the year, there was not only a season to cover but news and updates on Kris' concussion injury, and of course the awful lock out.
With that said, I will focus on the great memories and moments that KrisLetang.org reported and was part of such as the two scrapbooks that were created by the fans and myself and sent over to Kris: one as a get well book for his injury and the second for his birthday.  Those projects have shown me that the fan site is more than just some pages on a server, it reaches fans all over the world, and brings them closer to a sport and athlete of whom they admire greatly.
The participation by the fans for the scrapbook and support for KrisLetang.org as a whole has shown me as a person and motivated me to put at least 150% of effort and focus to make KrisLetang.org the best it could be to honor Kris as an athlete but the loyal fanbase of which I am proud to be a member of!
I look forward to 2013 with hope and excitement of what's come (however the NHL lockout will end).
Kris has the best fans and this fan site is a true testament to that!
Thank you so much for the support!
-Theresa