Kris Letang gets 2 assists in Pens' 6-4 win against the Canadiens!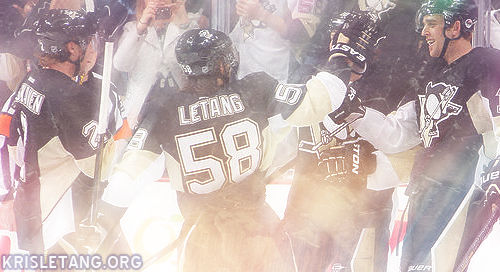 From @
penguins
  Twitter this morning (4/18)
#NHL announced a scoring change this morning—Kris Letang has been given secondary assist on #Pens 5th goal. Gives Letang 3 assists yesterday
Endgame Notes
All of the Penguins acquired before the trade deadline except for Jussi Jokinen scored on Wednesday. Morrow, Iginla and Murray all got goals. Murray's was his first of the season and first as a Penguin.
The goal ends a personal goalless streak of 146 games – the longest in the NHL. It's his first goal since Dec. 9, 2010 at Buffalo.
Iginla won a faceoff back to him that Murray retrieved, turned and shot through three Canadiens players. It bounced off Tomas Plekanec's skate and past goalie Carey Price. In addition to his goal, Murray led the team with five blocked shots and had three hits.
"It's funny, you don't really know how to celebrate when it goes that long," Murray joked after the game. "It's obviously nice. It's something I'm not focusing on, otherwise my confidence would be pretty shattered."
Future Hall of Famer Iginla's goal, scored on a first-period power play with a perfectly placed pass from Chris Kunitz (sorry for all of the alliteration there) was his 1,110th NHL point. Iginla became just the 58th player in NHL history to reach that mark. Since joining the Penguins, Iginla has two goals, three assists and five points in eight games. The Penguins recognized Iginla's achievement on the video board, and he acknowledged the fans' cheering with a quick wave.
Kris Letang assisted on Iginla's goal and Sutter's first goal to give him points in three straight games. Kris Letang now has 32 points this season, tied for second among NHL defensemen despite missing a total of 12 games due to injury.
Pascal Dupuis' assist on Morrow's first goal extends his point streak to a season-high six games. Dupuis, who has played center the last couple games with all the injuries, has three goals and 10 points over that stretch. [ Continue Reading End Game Report ]
Media Links
Game Recap
Box Score
Videos
Photo Gallery
Post Game: Coach Bylsma
Post Game: Brenden Morrow
Post Game: Brandon Sutter
Post Game: Douglas Murray
Post Game: Jarome Iginla
Pens-Habs Game Blog
Penguins Report: Game Day vs. Montreal