Pens shutout Islanders in Game 1; Kris scores his 1st goal of the 2013 playoffs!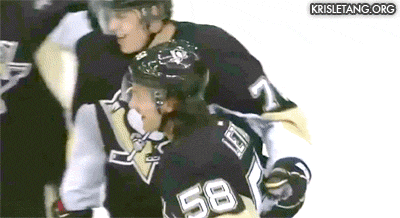 After Pascal Dupuis scored his second goal of the night to make it 4-0 (32 seconds after Kris Letang made it 3-0), the game was over. True, that goal was only two minutes into the second period with 38 minutes to play, but even the 18,612 in attendance knew it was lights out for the Islanders as they began their customary "wooing" – which has become the vocal equivalent of the victory cigar.
As the game wound down to the final 10 minutes of play, the "wooing" had given way to a chant of "We want the Cup! We want the Cup!" The fans were already looking past the Islanders.
However, the Penguins are not.
Pittsburgh needs 16 wins to assuage the fans' demand. While that is certainly the final goal, their focus now is on winning four games to get to the next round. And the Islanders will no doubt want to avenge this loss. Both teams will have a clean slate when the puck drops for Game 2 Friday at CONSOL Energy Center. – Continue reading endgame report for Game 1


Skater Stats
| | | | | | | | | | | | |
| --- | --- | --- | --- | --- | --- | --- | --- | --- | --- | --- | --- |
|  PIT | Pos | G | A | P | +/- | PIM | Shots | EV TOI | PP TOI | SH TOI | TOI |
| 2   M. Niskanen | D | 0 | 0 | 0 | 0 | 0 | 0 | 15:01 | 0:53 | 2:00 | 17:54 |
| 3   D. Murray | D | 0 | 0 | 0 | 0 | 12 | 0 | 13:42 | 0:00 | 3:09 | 16:51 |
| 4   M. Eaton | D | 0 | 1 | 1 | 2 | 0 | 0 | 13:59 | 1:17 | 3:44 | 19:00 |
| 5   D. Engelland | D | 0 | 0 | 0 | 0 | 0 | 0 | 13:38 | 2:10 | 0:27 | 16:15 |
| 7   P. Martin | D | 0 | 1 | 1 | 2 | 0 | 2 | 17:18 | 0:25 | 3:49 | 21:32 |
| 9   P. Dupuis | R | 2 | 0 | 2 | 2 | 10 | 3 | 12:05 | 0:00 | 3:20 | 15:25 |
| 10   B. Morrow | L | 0 | 0 | 0 | 0 | 0 | 0 | 13:35 | 1:43 | 0:35 | 15:53 |
| 12   J. Iginla | R | 0 | 2 | 2 | 1 | 10 | 2 | 11:17 | 3:28 | 0:00 | 14:45 |
| 14   C. Kunitz | L | 0 | 0 | 0 | 0 | 0 | 1 | 12:12 | 3:28 | 0:14 | 15:54 |
| 15   T. Glass | L | 1 | 0 | 1 | 1 | 0 | 1 | 8:54 | 1:18 | 2:29 | 12:41 |
| 16   B. Sutter | C | 0 | 0 | 0 | 0 | 0 | 0 | 13:37 | 0:52 | 2:44 | 17:13 |
| 18   J. Neal | L | 0 | 0 | 0 | 0 | 0 | 1 | 4:41 | 3:28 | 0:00 | 8:09 |
| 19   B. Bennett | R | 1 | 0 | 1 | 1 | 0 | 2 | 12:41 | 1:17 | 0:00 | 13:58 |
| 24   M. Cooke | L | 0 | 0 | 0 | 0 | 2 | 2 | 12:45 | 0:53 | 2:13 | 15:51 |
| 27   C. Adams | R | 0 | 1 | 1 | 2 | 0 | 2 | 10:50 | 1:17 | 3:24 | 15:31 |
| 36   J. Jokinen | L | 0 | 2 | 2 | 2 | 0 | 3 | 11:41 | 0:07 | 0:54 | 12:42 |
| 58   K. Letang | D | 1 | 0 | 1 | 2 | 2 | 3 | 18:36 | 3:53 | 2:51 | 25:20 |
Media links:
Recap
Boxscore
Videos
Photo Gallery
Dupuis Leads Way in Win
Beau Knows Playoffs
Pens' "New Guys" Pitch In
Penguins' Bennett provides spark in Game 1 blowout
Read more: http://triblive.com/sports/penguins/3932296-74/bennett-game-bylsma
Postgame Interview: