Pens win in OT! 5-4 against the Islanders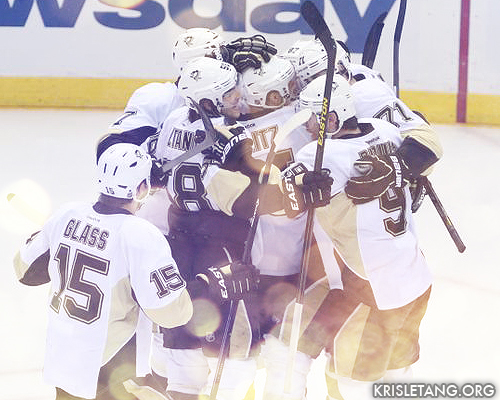 UNIONDALE, N.Y. (AP) – The Pittsburgh Penguins bounced back from their home disappointment and dished out their fair share to the suddenly shocked New York Islanders.
All it took was Sidney Crosby and a very powerful power play to do the trick.
Chris Kunitz scored his second man-advantage goal of the game 8:44 into overtime, off the third assist of the day by Crosby, and the Penguins rode a slew of ups and downs Sunday en route to a 5-4 victory over the Islanders that gave top-seeded Pittsburgh a 2-1 lead in the first-round playoff series.
The Islanders came in still enjoying the positive effects of their 4-3 comeback win on Friday in Pittsburgh that gave them a surprising split of the first two games of the Eastern Conference series.
The Penguins will try to take a commanding 3-1 lead Tuesday on Long Island.
Crosby, playing his second game after missing a month because of a broken jaw, drew the decisive penalty against Brian Strait, who held the Penguins captain as he drove the net 33 seconds before the winning goal.
"He kind of wrapped me up," Crosby said. "I pulled up looking for someone. I didn't see anyone so I thought I would take it to the net.
"We were hoping we could get it done quickly."
The Penguins went 3-for-5 on the power play and yielded Kyle Okposo's short-handed goal, but held New York scoreless on its three advantages.
"We had our chances. They scored on the power plays and we didn't," said Islanders coach Jack Capuano, who declined to comment on the officiating. "You always talk about special teams being a big factor, and that was the difference."
When New York scored twice in the first 5:41 to go up 2-0 in Game 3, old Nassau Coliseum rocked as it did in the Stanley Cup-winning days of the early 1980s. However, this was the Islanders' first home playoff game since 2007, and the fans were soaking it all in.
Not so fast.
The Penguins stormed back with a pair of power-play goals 19 seconds apart – first by Jarome Iginla on a 5-on-3 advantage, and then by Kunitz on the second half. When Pascal Dupuis gave Pittsburgh its first lead with 1 minute left in the opening period – capping the three-goal spurt in 5:42 – the early euphoria was gone in a flash. >> Continue reading AP game recap <<
Media Links:
Box Score
Videos
End Game
Photo Gallery
Post Game: Chris Kunitz (05.05….
Post Game: Marc-Andre Fleury (0…
Post Game: Sidney Crosby (05.05…
Geico Coach's Corner: Post Game…
Game Highlights (05.05.13)
Chris Kunitz OT Goal (05.05.13)
Pictures: