Kris Letang Shines in all Situations for Penguins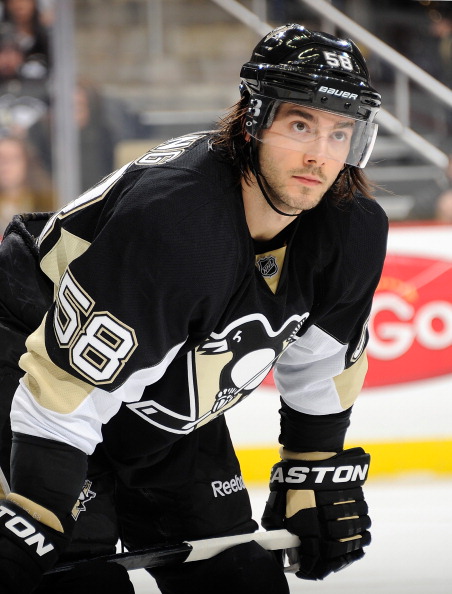 PITTSBURGH — Kris Letang said Monday he did not become a defenseman as a teenager just so he'd get to be on the ice more often during games. That's just an added benefit.
Letang is seemingly everywhere in every situation for the Pittsburgh Penguins, who open up their Eastern Conference Quarterfinal series against the Ottawa Senators on Tuesday night (7:30 p.m. ET, NBCSN, CBC, RDS).
One of three finalists for the Norris Trophy as the top defenseman in the NHL, Letang's value to the Penguins was on display in a six-game quarterfinal series victory against the New York Islanders.
Letang averaged a point per game against the Islanders, and he did it while averaging more ice time per game than any player in the East during the Stanley Cup Playoffs. Letang leads Pittsburgh in power-play ice time and is second among defensemen in shorthanded ice time.
Be it when the Penguins are pushing for a goal or when they're in lockdown mode, while paired with a puck-carrying partner or a stay-at-home type … you name the situation, coach Dan Bylsma is comfortable with Letang on the ice.
"You want to pay against top lines, you want to play power play, PK, when you pull the goalie, when the goalie's pulled on the other side — it doesn't matter, you want to play every situation," Letang said. "You want to be on the ice and making plays and helping your team win."
Letang, who finished tied for the NHL scoring lead among defensemen despite missing 13 games because of injury, averaged 25:38 of ice time during the regular season. Only two defensemen in the East played more.
What's more, Letang's minutes cover a lot of the ice. Letang's not afraid to pinch in — it's not unusual to spot him to venturing into the corners, behind the net or into the slot for a chance. In addition to being diligent in patrolling his own end, one of Letang's primary responsibilities is to carry the puck (or distribute it) through the neutral zone while at even strength or on the power play.
"He plays a lot of minutes," teammate Matt Niskanen said, "and he does it somewhat effortlessly, it seems."
Letang had five goals and 33 assists in 35 games this season to give him 209 points in 385 career regular-season NHL games. His production in the playoffs is equivalent — 12 goals and 25 assists in 71 games, the majority coming during Pittsburgh's runs to the Stanley Cup Final in 2008 and '09.
A Montreal native who was a third-round pick of the Penguins in the 2005 NHL Draft, Letang quickly displayed his skills when he had a goal during two of his first four NHL games the following October before being returned to his Junior team.
By 2007-08, he was a regular on a team that advanced to the Stanley Cup Final. For the first four seasons of his career, Letang felt blessed to have a veteran puck-moving role model to learn from at his position in Sergei Gonchar.
Their games aren't identical, but Gonchar was the one logging the heavy minutes, playing on both special teams and in all roles when Letang first arrived in the NHL.
"I was learning a lot from him," Letang said. "Especially the poise he had on the blue line and how to see the ice, especially on the power play."
It's vision, Letang says, that separates the elite players from the rest of the pack in the NHL. Decision-making — with and without the puck — is what makes the difference in a play that leads to a scoring chance for either team.
As Letang has matured and gained further experience at the NHL level, his decision-making has improved. At 26, he's in his physical prime. More importantly, Letang believes, he's also achieved a mental prime.
"It's just reads," Letang said. "Hockey is how fast you can read the play ahead of you. It's not about skill or anything like that. It's about how fast you understand the game and how you can read it."
Letang joins P.K. Subban of the Montreal Canadiens and Ryan Suter of the Minnesota Wild as finalists for the Norris Trophy for top defenseman.
The Penguins boast 14 of the past 25 Art Ross Trophy awards and have had six Hart Trophy-worthy seasons in that time. But the organization of Mario Lemieux and Jaromir Jagr, Sidney Crosby and Evgeni Malkin has but one Norris winner: Randy Carlyle in 1980-81. Letang could add to that when the NHL Awards are announced next month.
"You see what the League and everybody around hockey thinks of him," teammate Pascal Dupuis said. "Everybody knows what he can do and what he brings to our team and how valuable he is to the hockey club."
"He's in the Norris conversation for a reason," Niskanen said. "He controls the game out there, the way he skates and the way he can handle the puck. He's at an elite level. He's our best player on the back end."
It almost wasn't that way. Letang was a forward in his formative years, as any player with his skill set would figure to be. Then once, when he was 13, he moved to defense for a game.
"I liked it," Letang said with a grin peeking out. "But I still stayed a forward."
It wasn't until Letang reached the Midget Major AAA level that Letang permanently moved to defense. He remained there when he joined the Val-d'Or Foreurs of the Quebec Major Junior Hockey League and showed enough to be the 62nd pick in a draft for the Penguins that also produced Crosby.
"There's no reason," Letang says with a shrug when asked how he became a defenseman. "It was just a better choice for me.
"I like to see the ice and have control of the puck."
Being on the ice so much helps, too.