Pens move on to the Eastern Conference final! – Game Recap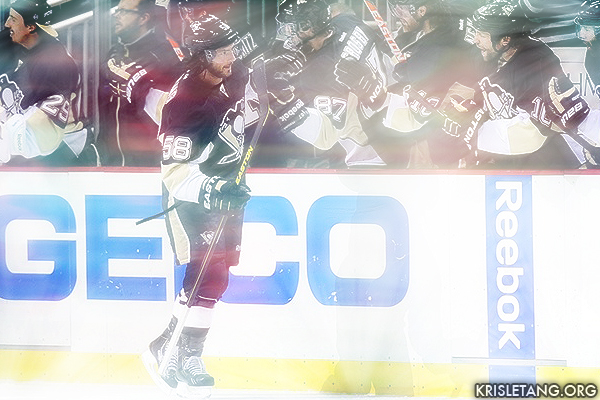 (AP) PITTSBURGH — The Pittsburgh Penguins are going to the Eastern Conference Finals for the first time since they won the Stanley Cup in 2009 and they are ready to attack the penultimate hurdle while hitting a perfect stride.
Pittsburgh finished a thorough dismantling of the Ottawa Senators with a 6-2 victory Friday night in Game 5 at Consol Energy Center. It is the first Stanley Cup Playoff series Pittsburgh has clinched at home since the 2009 run to a championship when they eliminated the Philadelphia Flyers at Mellon Arena in the Eastern Conference Finals.
"When we put ourselves in a position like this, you want to capitalize on it, and we came out with the desperation to win and you saw that from the puck drop," said Pittsburgh forward James Neal, who fueled the offense with a hat trick. "We were physical, putting the puck on net, special teams, we got a few big goals. It's a huge team effort and it feels good."
The top-seeded Penguins will play the winner of the other Eastern Conference Semifinal between the fourth-seeded Boston Bruins and the sixth-seeded New York Rangers. Boston leads that best-of-7 series 3-1 with Game 5 on Saturday in Boston.
Brenden Morrow, Kris Letang and Evgeni Malkin also scored as Pittsburgh continued its habit of offensively blitzing opponents at virtually every turn.
The Penguins have played 11 games through two rounds of the playoffs and have reached at least four goals in nine of those games. They scored 13 goals in the final 100 minutes of this series and have 47 goals this postseason, 12 more than the Bruins, who sit second. >> Continue Reading <<
James Neal's hat trick leads Penguins to 6-2 victory over Ottawa
Penguins Notebook: Long stretch of starts no problem for Vokoun
Media Links:
Game Analysis
Box Score
Photo Gallery
Videos
Post Game: James Neal (05.24.13…
Post Game: Sidney Crosby (05.24…
Geico Coach's Corner: Post Game…
Game Highlights (05.24.13)
Post Game: Tomas Vokun (05.24.1…
Post Game Interview: