Kris Letang 1st star of the game, has career high 8 shots! Penguins beat the Sabres 5-4 in shootout.
Kris Letang was the 1st star of the game in the Penguins win over the Buffalo Sabres. He had 1 point, received on an assist for the 2nd period Tom Kuhnhackl goal. He was a force in front of the net, getting 8 shots (a career high!), plus he had 2 hits and 2 blocked shots. In his great warrior way, Kris played over 30 minutes on the ice, with a total of 35:14 (Did he ever leave the ice?). The game went to a shootout and Kris scored the goal helping the Penguins win!
What a great game for the Penguins and one for Kris, showcasing the reasons why he is one of the best defenseman in the game and should be considered for the Norris Trophy this year.
Game Media:
Game Recap
Box Score
Game Gallery
Infographic
3 Impressions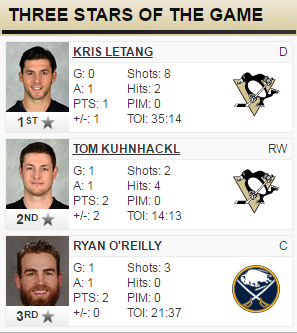 Reuters – Letang carries Penguins to shootout win over Sabres
"As a team, we're running on a high right now," Kris Letang said.

"What I like about our group is we're finding different ways to win," Mike Sullivan said. "We're getting different people at different times that are stepping up for us."

The regulation goals came from Ben Lovejoy, Conor Sheary, Tom Kuhnhackl and Nick Bonino, all in the second period as the Penguins climbed out of a 3-0 hole. Top guns Sidney Crosby and Letang were held to one assist each, although Letang and Phil Kessel scored in the shootout.

"It needs to be like that," Letang said. "It's not going to be [Malkin] and Sid all of the time."

Lovejoy and Derrick Pouliot have stepped back into the lineup to replace Maatta and Dumoulin on defense. The Penguins haven't missed a beat.

"The last couple years, we were trying to get guys at the trade deadline that were big-impact players, but I think depth-wise we were lacking," Letang said. "We were playing with five [defensemen], a lot of guys were injured. Having all of these defensemen who can play the game is pretty fun." – Source – Post Gazette
UPI – Kris Letang carries Pittsburgh Penguins to shootout win over Buffalo Sabres 
Post Gazette – Postgame thoughts