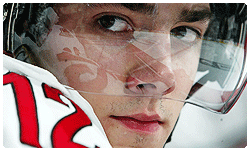 Kristopher Joseph Pierre Irwin Letang was born on April 24, 1987. He is a Canadian professional ice hockey defenceman currently playing for the Pittsburgh Penguins of the NHL.A smooth passing defenceman, Kris honed his skills in two full seasons with the Val d'Or Foreurs. In 2005-06, Kris began his season with the Penguins and went on to compete in seven games with the club. He found the back of the net twice for the Pens before he returned to the QMJHL to complete his season with Val d'Or.
On the international stage, Kris represented his homeland at the 2006 and 2007 World Junior Championships and won gold-medals in both tournaments. He was Captain of Team Canada's junior team in 2007. Kris debuted internationally for Team Canada in his junior rookie season during the 2005 World U18 Championships in the Czech Republic. Kris scored 4 points in 6 games in a silver medal effort, losing to the United States in the final.
The next two years, Kris competed in the World Junior Championships, earning gold in 2006 and 2007, as part of a five-year Canadian championship run. He won the first gold medal with Team Canada in Vancouver as the host country, then returned the next year in Sweden to score 6 points in 6 games as team captain. Kris was named to the tournament All-Star Team, along with national teammates Carey Price and Jonathan Toews.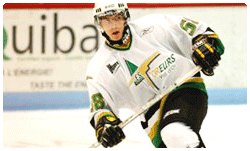 Making the Penguins out of training camp, Kris made his NHL debut in the 2006–07 season. He scored his first NHL goal in his third game, against Rick DiPietro of the New York Islanders in a 6-5 win. However, after two goals in seven games, Kris was scratched twice and then returned to Val-d'Or for further development. Playing in his third season with Val-d'Or, Kris led the Foreurs to the 2007 QMJHL Finals with 31 points in the post-season, only to be swept by Lewiston in four games. Upon the Foreurs' elimination, Kris was assigned to the Wilkes-Barre/Scranton Penguins of the American Hockey League (AHL), who was in the second round of the Calder Cup playoffs, and recorded an assist in his only game. At the season's end, he was the recipient of three major QMJHL awards. In addition to receiving the Emile Bouchard Trophy, as the best defenceman, and the Paul Dumont Trophy, as the best personality, Kris also received the Kevin Lowe Trophy, as the best defensive defenceman, indicative of Kris' abilities on both ends of the ice.
After beginning the 2007–08 season in Wilkes-Barre/Scranton, Kris was quickly recalled by Pittsburgh after recording 7 points in 10 games in the minors. He excelled in his rookie season with Pittsburgh, and was invited to the 2008 NHL YoungStars Game during All-Star weekend along with teammate Tyler Kennedy. He completed the season with 17 points in 63 games, sixth among rookie defencemen.
Kris lost one of his closest friends, Luc Bourdon, who was a defenceman for the Vancouver Canucks, in a motorcycle accident on May 29, 2008. Kris was at the time playing in the 2008 Stanley Cup Finals against the Detroit Red Wings. He and Bourdon had been teammates in junior with the Val-d'Or Foreurs and the Canadian junior team. He had been planning on buying a motorcycle but decided against it following the death of Bourdon. Making his NHL playoff debut, Kris helped the Penguins to the 2008 Stanley Cup Finals where they were defeated in six games by the Detroit Red Wings.
Going into the 2008–09 season, the Penguins' top two defencemen, Sergei Gonchar and Ryan Whitney were both put on the long-term injured reserve, immediately increasing Kris' responsibilities on the team's blueline. He was placed on the Penguins top defensive pairing with Brooks Orpik, replacing Gonchar. The increased playing time resulted in a 10-goal, 33-point season, leading all team defencemen. During the season, Kris was also invited to his second NHL YoungStars Game during the 2009 All-Star weekend in his hometown of Montreal, playing for the Sophomores team.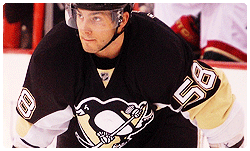 After the Penguins eliminated the Philadelphia Flyers in the first round, Kris scored his first career NHL playoff goal in game three of the second round against the Washington Capitals on May 6, 2009, in overtime. Kris' playing status for the game had been uncertain due to a suspected shoulder injury resulting from a Mike Green hit received in game three.Nevertheless, his game winning goal cut the Capitals' series lead to 2–1, helping Pittsburgh overcome the initial 2–0 series deficit and win in seven games. As part of the Penguins, Kris would win the first Stanley Cup of his career in June of 2009 in a nail-biting 7-game series.
The following season, Letang recorded a career-low 3 goals to go with 24 assists. Late in the regular season, Letang signed a four-year contract extension through to the 2013–14 season on March 30, 2010, worth an annual $3.5 million. Going into the 2010 Stanley Cup playoffs as defending champions, the Penguins were eliminated in the second round by the Montreal Canadiens. Letang surpassed his regular season goals total with five tallies in 13 post-season games, along with 2 assists for 7 points.
With the departure of the Penguins' top defenseman, Sergei Gonchar, the following summer, Letang assumed a larger role with the club in 2010–11. Enjoying a career year, he was voted in as a starter for the 2011 NHL All-Star Game in Raleigh, North Carolina. With a career-high 50 points (8 goals and 42 assists), Letang finished the season as the second-highest scorer for the Penguins, behind Sidney Crosby. His efforts helped the Penguins to the fourth-best record in the league with 49 wins and 106 points despite long-term injuries to the team's top three centres – Crosby, Evgeni Malkin and Jordan Staal. Matching up against the Tampa Bay Lightning in the first round, Pittsburgh lost the series in seven games; Letang had four assists.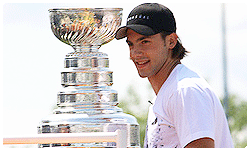 The 2011-2012 season, started off well for Kris and the Penguins, but would soon be rattled with serious injury.  Later November 2011, Kris was hit by Montreal Canadian's Max Pacioretty. As a result of the hit, He suffered a concussion and didn't return to playing until January 19 where he made his return against the New York Rangers. Despite the injury, Letang was voted by the fans and made the NHL 2012 All-Star roster as an injury replacement for Dustin Byfuglien joining teammates Evgeni Malkin and James Neal. Kris finished the regular season with 10 goals, 32 assists, and 42 points.
2012-2013 Season
The shortened 2012-2013 Season was a great one for Kris. He was nominated for his first Norris Trophy, finishing in 3rd place. This nomination was partly due to his amazing stats, leading all NHL defenseman in assists (33) and points (38), despite only playing 35 games. He is also the only defenseman to average over a point per game. (1.09) Kris finished 6th in voting for the Lady Byng Trophy (sportsmanship and gentlemanly conduct combined with a high standard of play / he received 2 first place votes.)
Other brilliant notes:
• Workhorse led team with 25:38 minutes per game and 4:37 power-play minutes per game.
• His plus-16 rating was 8th best (tied) among all NHL defensemen.
• Topped team's blueliners with 95 shots.
• Set new career-long 6-game assist streak (12 total) from March 2-12.
• Recorded 8 shots (2nd highest career total) March 12 vs. Boston.
• Set new single-game career high with 4 assists March 2 at Montreal.
• Placed 3rd on team with 59 blocked shots.
• Tied for team lead in playoff scoring with 16 points (3G-13A). His 13 assists were highest total on team. Led all NHL D-men in assists and points.
• Set career high and tied franchise record with 4 assists in Game 4 vs. Ottawa.
• Led team in postseason ice time with 27:37 minutes per game.
• His 13 career playoff goals are 2nd most in franchise history among defensemen (Larry Murphy, 15).
• Attended Team Canada Olympic Orientation Camp in August 2013.
2013/2014 Season
2014 POSTSEASON:
Home: 7GP 2G-3A-5PTS  +4       Even Strength: 2G-2A-4PTS    Shorthanded: 0G-1A-1PTS
Road: 6GP 0G-1A-1PTS  E      Power Play: 0G-1A-1PTS
* His 15 career playoff goals are tied for the most in franchise history (Larry Murphy).
* Led team D-men w/29 shots.
* 2nd among team defensemen w/24:10 TOI/G, 19 hits and 22 BkS.
* 4th among team blueliners w/2:15 SH TOI/G.
* Tallied 38th postseason assist vs. NYR May 9 to surpass Sergei Gonchar for 2nd most playoff assists among Penguins D-men in franchise history.
* Notched 3rd career postseason 3-pt night (1G-2A) vs. NYR May 4.
2013-14 REGULAR SEASON:
* Led team blueliners w/a career-high 11 goals.
* Ranked 1st among team D-men w/6PPG.
* Finished 2nd on team w/ 24:14 TOI/G.
* 3rd among team D-men in points (22).
* 4th among team D-men w/1:57 SH TOI/G.
* Voted Penguins Masterton Trophy nominee by PHWA.
Home: 19GP 6G-9A-15PTS  -7   Even Strength: 5G-5A-10PTS
Road: 18GP 5G-2A-7PTS  E   Power Play: 6G-6A-12PTS
2014-2015 Season –  Kris finished the season, with a career high 43 assists and 54 points. Unfortunately, injuries plagued his season and he only played in 64 games. His 0.78 points-per-game average is 2nd among all NHL D-men. At the end of the season, Kris was nominated for his second consecutive Masterton Trophy nominee (recognition of sportsmanship, perseverance and dedication to hockey).
2015-2016 Season – Kris was a powerhouse for the Penguins, contributing both defensively and offensively. This season, he ranked 3rd among active defense men for total points, with 67, 2nd in assists with 51, and 8th in goals with 16. At the age of 29, Kris is looked upon by his younger teammates and defense man as a leader with great experience and skill. This season ended with Kris and the Penguins winning the Stanley Cup (beating the San Jose Sharks)!
2016-2017 Season – The season ended early for Kris as a result of herniated disk in his neck. This injury put Kris out for the rest of the season  and the playoffs. After a successful surgery, Kris rehabilitated and trained during the off season and is in top shape for the 2017-2018 season! Kris ended this season with 29 assists. The Penguins went on to repeat their Championship run, beating the Nashville Predators to become the 2017 Stanley Cup Champions – by that count Kris has 3 championships in his career!
2017-2018 Season –
Kris returned to the Penguins following neck surgery earlier in 2017. He was selected for the 2018 All-Star Game in Tampa, Florida. The Penguins finished the regular season with a playoff berth. They were unable to defend their championship after being eliminated by the Washington Capitals in the second round. Kris finished the regular season 9 goals, 42 assists, and 51 points. His playoff stats were impressive with 3 goals, 8 assists, 11 points.
2018-2019 Season –
Kris Letang started off the season breaking records, a trend that would continue throughout the year. On October 6, 2018, Kris recorded his 441st assist, setting a new team franchise record for most points by a defenseman. Kris was selected to represent team Metro for the 2019 NHL All Star game. The most extraordinary event and accomplish came on February 11, 2019, Letang passed Paul Coffey for most goals by a Penguins defenseman. Kris now holds the franchise record for games played, goals, assists, and points in the regular season and post season among Penguins defensemen!
Sources: Penguins Official Website:  Legends of Hockey, Wikipedia, and KrisLetang.org (2011-2012 seasons and forward; also made grammatical changes)