March 4, 2011 – KrisLetang.org Fan Story!
I attended the Penguins game against the Devils on March 4, 2011 at the Prudential Center in Newark, NJ. I had a fantastic time at the game, arriving early to for warmups behind the glass and holding up my "Letang 4 Norris" sign with a little plug for KrisLetang.org at the bottom.
During warmups, I met another Penguins fan, Angela, who was very nice. She was taking photos with her camera, some of which I will upload to the gallery shortly. All her photos are fantastic and I'm sure you will enjoy them!
I am not sure if Kris saw my sign, but I did see some of his teammates reading it, all in all the sign was noticed and I hope the message was spread that was on it!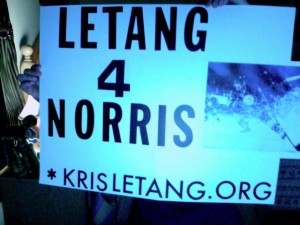 The game was amazing, high energy that was playoff-esque. The level of playing was very high for both teams, despite a loss for the Penguins. I received many tweets and messages during Kris' fight with Travis Zajac. Kris had to leave the game because of game misconduct because he did not strap his jersey down. I was a bit upset, no one wants to see their favorite player leave the game so early, but I am a Penguins fan and I enjoyed that game regardless.
After the game, I waited for autographs at the exit for the visiting team. There were other fans there and it was pretty cold so I my mission was to get a few, hopefully get Kris' autograph as well and head home. The team came out pretty quickly following the end of the game, with Kovalev and Godard being a few of the first who signed for fans.
Kris came out shortly after and came up to me first, signing my picture which I printed out. I am not 100% sure if he read the sign but I think he remembered me from the last game I attended or hopefully from holding up the sign. All in all, it was a special moment and I am very grateful for it!
So if you are reading this Kris, thank you for signing my picture! I hope you read the sign and if you have visited the fansite, I hope you like it 🙂 – Thanks for being a great player on and off the ice!


Click any of the photos below to view that gallery album of the game !