Penguins 4, Islanders 3 SO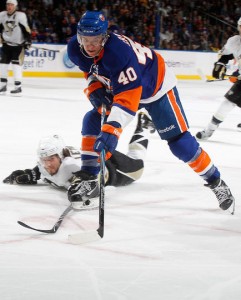 Star of the Game
Prior to the March 8 contest against Buffalo, Zbynek Michalek was stuck in a 91-game goalless drought. But in the past month, he's tickled the twine five times, and he also chipped in with two assists in that span.
Head coach Dan Bylsma noticed that Michalek's shot – which was already one of the strongest on the team – was becoming an important asset, so he placed Michalek on the top power-play unit.
Michalek thanked Bylsma with a timely power-play goal in the second period, as he sniped a shot through traffic and past Al Montoya to give the Penguins a 2-0 lead.Kris Letang sent a pass from the right point straight to Michalek's wheelhouse on the left point. Mike Ruppwas busy creating havoc in the crease, giving Michalek the opportunity to send the laser into the cage.
And Michalek's offensive outburst isn't affecting his defensive dominance. He dished out four hits, and finished with a whopping 31:37 of ice time, including significant time on both the power play – which scored one goal – and the penalty kill – which stifled six of the Islanders' seven power plays.
He also saved a potential tying goal early in the first period when Michael Grabner beat the defense for a breakaway. Michalek hustled back, dove toward Grabner and smacked the puck away without taking a penalty.
(AP) – Chris Kunitz scored the only goal in the shootout and the Pittsburgh Penguins beat the New York Islanders 4-3 on Friday night to avenge a record-setting, fight-filled loss.
The Penguins seemed to have things well in hand until Travis Hamonic got the Islanders even at 3 with just 35 seconds left in regulation with a shot from the left point that got past goalie Marc-Andre Fleury after New York pulled goalie Al Montoya for an extra skater.
The Islanders had nearly tied it with 1:38 left, but Matt Moulson's goal was disallowed because John Tavares was in the crease.
Mark Letestu had snapped a 2-2 tie with 7:39 left, andMike Rupp added a goal and assist for the Penguins. Fleury turned aside all three Islanders shooters before Kunitz won it on the final attempt.