Pens beat the Stars on Veteran's Day!
The final score was 3-1 Penguins in regulation against the Dallas Stars in Pittsburgh. Yesterday was Veteran's Day on the historic 11/11/11 date! The Pens dedicated the game to the veterans and men and women currently active in the armed forces. It was a great game with a fantastic end result but even more astounding that the game being Skyped live to soldiers  locations such as Afghanistan!
Here is the game wrap from yesterday:
PITTSBURGH (AP) – Playing against the team that traded him away nine months ago gave James Neal some extra motivation.
And when the Pittsburgh Penguins had two goals waved off that Neal believed should have counted, he became even more determined.
Neal scored two power-play goals, both seconds after the Penguins had goals disallowed, and carried Pittsburgh to a 3-1 win over the Dallas Stars on Friday night.
"Of course when you play your former team, you want to do well," Neal said. "Especially with them doing so well and coming in here being a top team. It was a test for us and a test for them, and it feels good to be able to come out on top."
The game matched the teams with the most points in their respective conferences. Pittsburgh is on top in the East, and Dallas leads the West.
Neal netted his 10th and 11th goals of the season to pull within one of the NHL lead, and Matt Cooke scored on a penalty shot in the third period as Pittsburgh won for the seventh time in nine games. – Credit Associated Press – please click here to read the rest of the recap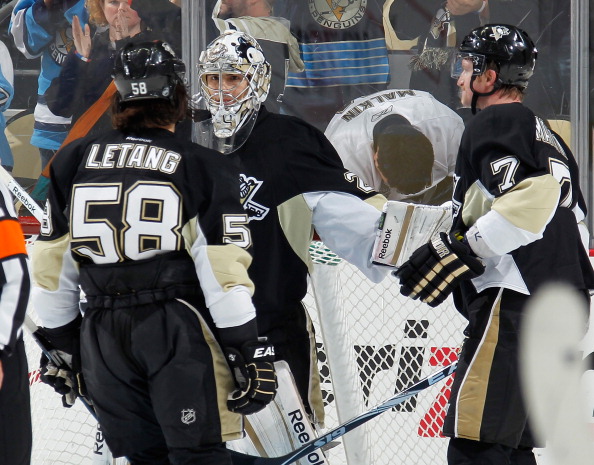 • Video Highlights
• News
• Photo Gallery
• Endgame
• Boxscore
• Game Blog
Post Game Videos:
Post-Game: Dan Bylsma
Post-Game: James Neal
Post-Game: Matt Cooke
Post-Game: Chris Kunitz
Articles:
WWII Veteran Enjoys First Hockey Game
Pens Honor the Real Heroes
Penguins Report: Game Day vs. Dallas