Day 3+4: Fanfair, skills + Game day!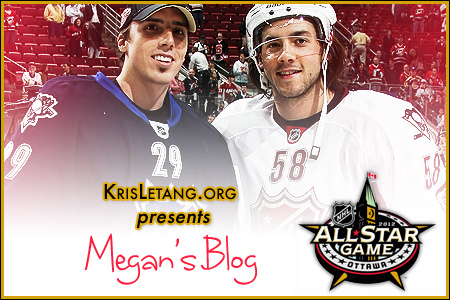 Hey hockey fans!
First of all, I apologise for the lack of updates the past few days. Saturday night was crazy busy, then I woke up Sunday morning with a headache, so I haven't gotten the chance to post anything.
Saturday:
Saturday was my day to volunteer at the Fanfair. I got there around 3 and the dozens of volunteers got assigned their jobs. Lucky for me, my job was to take pictures of people with the Stanley cup! There were people who had lined up for two hours to have their picture taken with the cup, so taking pictures was hectic. After doing this for three hours, I went home just in time to watch the Skills Competition.
The Skills Competition is my number one favourite thing to watch at the All Star Weekend, and this years did not disappoint. Both teams had such strong talent (this is the 'All Star' weekend after all…) and it showed. In the end, team Alfie came up on top with a score of 21-12.
Sunday:
Originally, Sunday was my day to work at the Scotiabank Place for transportation, but as I mention earlier in the post, I woke up with a killer headache so work was a no-go. I was definitely disappointed that I had to miss my shift, but the one up side to this was that I actually could watch the game J
As most of you probably watched on Saturday, the game was a tight score throughout all three periods. As soon as team Chara would get a goal, team Alfie responded right away by evening up the score.
Our Penguins played great, with each of our All-Stars racking in at least one point each:
Letang: 1 assist
Neal: 1 assist
Malkin: 1 goal + 1 assist
Just like last years All-Star Weekend, the red team wins the skills; the blue team wins the game. As much as I'd love for my team to win both, this is a great way for every fan of every team to feel like a winner. An Amazing finish to an amazing weekend.
My first All-Star Weekend was such a blast this year. But all good things must come to an end. As sad that I am that it's over, I'm already getting excited for next years ASG. It was announced a few days ago that next year the All-Star game is going to be hosted by the Columbus Bluejackets in Columbus, Ohio.
I'll see you next year in Columbus!
Megan