More KHL news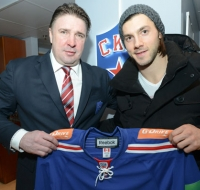 Kris Letang joins SKA!
Pittsburgh Penguins defenseman Kris Letang became an SKA player. He signed a contract with the club during the SKA vs. Lokomotiv game. Kris Letang was born on the 24th of April 1987 in Montreal. He was selected 62nd overall by the Penguins in the 2005 NHL Entry Draft. Internationally, he has competed for Canada at the under-18 and under-20 levels, winning back-to-back gold medals at the World Junior Championships in 2006 and 2007.
In his second full NHL season, Letang won the Stanley Cup with Pittsburgh.
Source: HC SKA press-service, photo: ska.ru
http://www.ska.ru/news/en/8396.html
Latest news:
RT @TheFourthPeriod: Letang signed his contract during SKA's 4-0 win over Lokomotiv. He's expected to play Sunday. He's got 3 games til the 11th (NHL's deadline)
Letang is actually in Russia now. Awaiting current #NHL talks.fallout. wants to pounce on #khl opportunity if it comes to that. @penguins
—-
From Dave Molinari at the PG:
"Letang is expected to sign with SKA St. Petersburg of the Kontinental Hockey League, a team whose lineup includes Ilya Kovalchuk, Petr Prucha, Maxim Afinogenov and Sergei Bobrovsky"
—-
If there is no collective bargaining agreement reached between the National Hockey League and its Players' Association before Jan. 11 resulting in the cancellation of the 2012-13 season, Pittsburgh Penguins star defenceman Kris Letang will head to Russia.
The 25-year-old signed with SKA St. Petersburg of the Kontinental Hockey League, the team announced Friday. Obviously, one stipulation in the deal is if the lockout ends Letang would rejoin the Penguins and play in the NHL.