Kris Letang gets 5 assists, has an amazing night, Pens win 5-3 over Jets!
Kris Letang had an amazing game with 5 assists (on all 5 of the Pens' goals! The Penguins beat the Jets 5-3 in Pittsburgh, too!
Three impressions from Assistant coach Rick Tocchet, his first one was for Kris: 1. For me two individuals really stuck out. Letang had a great game with five assists. Getting Hornqvist back, a huge net-front presence for us. It's something we've been missing. He gets a big goal for us. [Source]
Quotes from the media:
"The key thing for Kris is that he was really skating," Penguins coach Mike Johnston said at a media session that followed a victory for the first time in two weeks. "When he's skating like that, he can jump up into the play and then he can get back. He had great balance to his game. [ Source ]
Every time he moved, a Jet appeared out of nowhere to land a vicious hit on the defenseman.
"I got hit pretty hard. That's what they're getting told to do. They finish their checks on every guy out there," Letang said. "(They're) tough to play against."
Letang received medical attention twice during the game. He was crushed with a hit from behind courtesy of Ben Chiarot. Prior to that a puck nailed his hand on a clearing attempt.
"I saw the play. I wasn't sure and I tried to catch it anyway and it flipped my nail, (but) it was fine," he said. [ Source ]
Penguins beat Jets, 5-3, to break losing streak
Letang produces 5 assists in return as Penguins defeat Jets, 5-3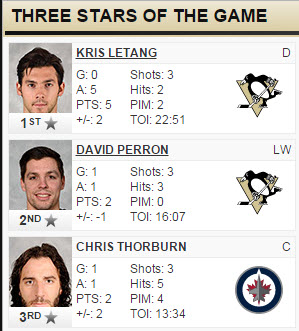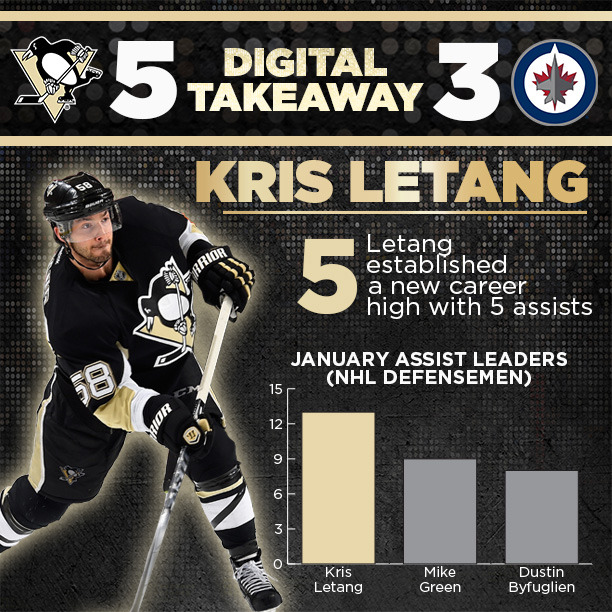 Post Game Video Interview

Game Day Video Interview

Game Photos: