Hello Penguins fans!
Since I have been asked a few times lately about my meetings with the man of the defensive hour, and not to mention, the BEST HAIR in the NHL, Kristopher Letang. In order to increase the positive energy for Tanger in his NHL All-Star debut, here is a rundown of the brief moments I have spent with him… I can't say enough about his work ethic he shows at practice (Iceoplex @ Southpointe) and the kindness he shows to fans. Meeting him has only increased my respect for him. (Also, You couldn't help but love his awkward shyness!) He's a great hockey player and a wonderfully beautiful human. 🙂 Here's the scoop:
My Brief Moments with Kris Letang:
1: December 11, 2009: I was totally overwhelmed. This was the first time I was meeting any of the 2009 Stanley Cup Pittsburgh Penguins. Kris was the last out, and the 7th player we met that day. Kristopher was in his red Chevy truck, after practice at the Iceoplex. I noticed first, how shy he seemed around people, but that didn't stop him from interacting with anyone. It was finally my turn! He gave me a gorgeous signature on a hockey puck, and I somehow managed to ask if we could take a quick photo. He of course, agreed and flashed his grin for the camera. I was speechless. And frozen. It was freezing cold. So cold my Sharpie froze. I could barely mutter out the words 'Thank You' to the players, I was super star struck!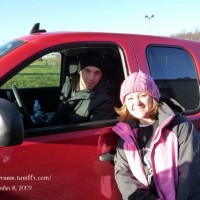 2: December 31, 2009: Happy New Year!!! New Years Eve 2009 practice at the Iceoplex. Kris was in his Black BMW. There were a ton of fans there that day too. And even though Kris was the last off the ice, he stayed and signed everything for everyone, including my newly purchased Letang #58 jersey! I was hoping and praying I'd get a chance to have it signed. I was shaking as I handed him my black premier jersey. He took it in his car, carefully laid it out on his lap, giving me the biggest, most beautiful autograph I have ever had. He chose the middle of the 8 to attach his signature. He actually said 'Thank You' after I thanked him and wished him good luck! He is so super kind, and giving to the fans!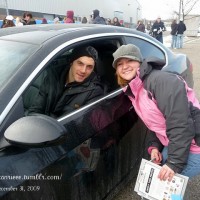 3: March 6, 2010: The third time was also after Iceoplex practice, my boyfriend Stephen noticed that Kris was out of his cute little BMW taking photos with a lady and her daughter. (Who, by the way are always at practices, bringing him baked goods… I know, weird) I was wearing my signed Letang jersey, and thought it was the most perfect Kodak moment. Then he jumped back into his car. I was too late, or so I thought. I wasn't brave enough to ask him to get out. Stephen has no fear, so he just asked Kris if he would hop out and take a photo with me too, because he was my favorite player. He shrugged, and hopped out, gave a cute little grin, and posed with me!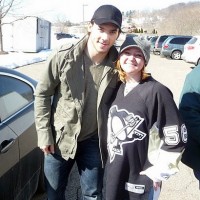 4: September 27, 2010: We got lucky and read a tip online that said the Pens were holding an unscheduled practice at the Iceoplex. To our surprise there were less than a dozen fans there, along with a couple of reporters. After a particularly empty practice at the Iceoplex, I got an autograph from Kristopher, and this lovely lovely lovely photo. Love that face. He is always posing for photos… he has that look down, huh? ;P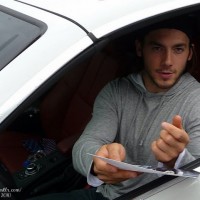 5: October 20, 2010: After practice at the Iceoplex, before the team was to fly out to Florida to play the Panthers. The boys were dressed up in their suits. Even though they had to catch a plane, Kris still stopped to sign my hockey card! Looking good!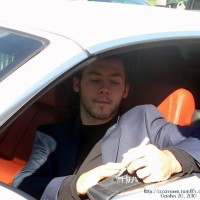 Thanks for all the magical moments, Kristopher!!
Good luck to him in the All-Star Game! I know I personally logged about 4,058 votes myself… haha
Lets's Go Pens!!
XOXO <3