KrisLetang.org was created with admiration for the talented defenseman of the Pittsburgh Penguins, Kris Letang. It was always an idea of mine to create a fansite for Kris and I finally put it into action the winter of 2010. I was inspired by the  way Kris' has plays on the ice (and how fast he skates!), his determination as an athlete, and his dignified, honorable character he has off the ice. I was surprised to not find a fansite or blog by fans created for him, because of how beloved he is by Pittsburgh Penguins fans and hockey alike. The fans should have a place to go to for the latest news and media about Kris and I hope this fansite fulfills that need and more. My goal is that this fansite becomes a place for them to share and celebrate being a fan of Kris Letang. Thank you for visiting and I hope you enjoy the fansite!
Thanks for visiting : ) !
Go Pens!
-Theresa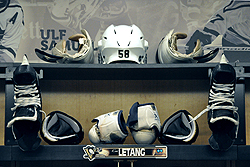 Site Stats
Name: Kris Letang.Org
Domain: Krisletang.org
Opened: December 2010
Webmaster: Theresa
Email: krisletang.org@gmail.com
KrisLetang.org is powered by WordPress, for optimal viewing recommended browsers are Mozilla Firefox, Apple Safari, or Google Chrome.
All graphics and coding on this website were made with Adobe Photoshop CS5 and Dreamweaver CS5.
About Me:
Hi! My name is Theresa and I am a digital artist and graphic designer from NY, USA, calling Raleigh, NC my home.  I am a huge Pittsburgh Penguins and I try to attend games when the Pens are in the area. I love watching sports other than hockey such as NFL and MLB with my favorite team being the New York Mets.  When I'm not updating KrisLetang.org, I spend my time with photography, reading books, and creating art. I collect hockey and baseball cards, especially Pens' memorabilia and hockey jerseys!
Translations
Most of the  interview translations on KrisLetang.org were translated by Megan. She is the primary translator for the fan site and works hard to provide the translation that I know many of Kris' non-French speaking fans love to read!
Here is a short bio about Megan:
Hi! Bonjour! My name is Megan and I am the translator for krisletang.org. I'm a linguistics student living in Ottawa, Canada's capital city. I've been a Pittsburgh Penguins fan since 2004. Some of my favourite players include Kris Letang, Marc-André Fleury, and Jordan Staal. The Pittsburgh Penguins are my favourite hockey team. I'm a huge Kris Letang fan, as well as a Jordan Staal and Marc-Andre Fleury fan, too.
Contributors
The fansite receives donations in pictures, stories, media, and other content from fans all over the world! I am very grateful to have such great participation from them because it keeps the site growing! Thank you for supporting KrisLetang.org !
For the Terms and Conditions / Disclaimer