Luc Bourdon's Birthday wish !
Today is Luc Bourdon's birthday.
As many of you know or those who do not, Luc was a best friend of Kris, and on May 29, 2008 he died in a motorcycle accident. It was an extremely tragic event to happen during the 2008 Stanley Cup playoffs, in which the Penguins and Kris were competing in. So comes this post, which is not to reflect on that time but instead it is to celebrate his birthday and life.
I read many beautiful tributes for him all over the internet and was touched by an exceptionally written one from a fan.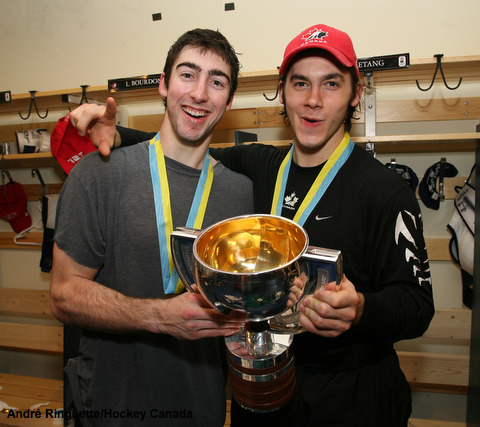 on may 29 2008, luc bourdon was taken from this world in a motorcycle accident. today is what would have been his 24th birthday.

after overcoming arthritis as a kid, luc got to go on and play hockey. he would win a gold medal with team canada, and his best friend kris letang. luc would have the opportunity of a lifetime to play for the vancouver canucks. when luc bourdon wasn't playing hockey, he liked to play guitar. and he used that to the best of his advantage in hockey. the canucks in an 8 game losing streak, luc lifted the team spirit by having them play guitar hero. upon turning professional, luc anonymously donated 10,000 dollars to the local hockey organization which would be used for families who couldn't afford hockey equipment. the announcement that luc was the donator only became public at the time of his death.

luc bourdon, you are truly a hero. and wherever you are right now, i hope your smiling down at us. happy birthday, number 28. ♥

– Meg