Thank you fans!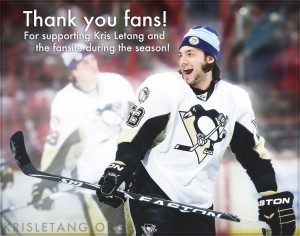 I want to thank all the fans of Kris Letang, the Pittsburgh Penguins, and NHL for all the support in this fan site. The responses from visitors and fans was overwhelming and I felt extremely touched at times running this fansite for Kris. My goal was to create a place where his fans could get the latest news and media, that was created for the fans by the fans.
I do believe that that goal has been achieved!  For the future, I see the great potential for this fansite. KrisLetang.org may be a simple fan site that has grown in four months to something I could not even have imagined. For that, I am grateful and humbled. This fansite is a joy to do and I love every second of it, but to see that the fans enjoy it brings it to that next level.
I hope to cover many future seasons of Kris' career, the possibilities are endless and I look forward to it!